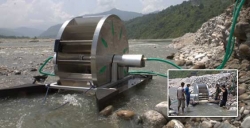 Valencia, Spain, November 03, 2014 --(
PR.com
)-- Climate-KIC, the EU's main climate innovation initiative, has announced that Dutch start-up aQysta has been named Europe's most innovative clean-tech venture by a jury of esteemed entrepreneurs, financiers and business people in its Europe-wide Venture Competition. aQysta will receive €40,000 worth of investment, access to business tutoring and media support to further develop its hydro-powered floating irrigation system that can increase crop yield up to 5 times and replace diesel-powered systems.
aQysta's product is designed as a sustainable, low-maintenance, low-cost irrigation pump for rural communities. aQysta's pumps do not require any external source of energy like fossil fuels or electricity to operate and can be assembled locally – also in developing countries.
Energy-saving Nordic Power Converters from Denmark took second place with €20,000. The audience award went to UK-based Reduse's revolutionary 'unprinting' system that lets you reuse office paper several times before it gets recycled. Reduse picked up the third prize of €5,000.
The competition was held as part of Climate-KIC's annual Festival of Innovation which took place in Valencia, Spain this year. The competition showcases and rewards the innovation and enterprise happening on the European climate change scene. The 18 finalists were drawn from the winners of national competitions hosted across Climate-KIC's 12 European hubs*.
The finalists were all drawn from Climate-KIC's Accelerator programmes across Europe, which spot and nurture green entrepreneurs from concept to start-up. The prize winners of the Europe-wide competition demonstrated a scalable technology or service that will have a substantial climate impact.
Hero Prins, Director of Entrepreneurship at Climate-KIC, commented: "The standard of this year's entries shows the tremendous dynamism of the emerging climate innovation sector in Europe. Start-ups are the best way to bring climate relevant innovations to market quickly. While all of them showed the potential to really make a difference to the world, aQysta stood out due to its fantastic global market opportunities. I'm looking forward to seeing their pumps in action around the world."
Fred Henny, CEO and co-founder of aQysta commented: "This is an amazing opportunity. To aQysta, sustainability is not only about being concerned with CO2. It is about using a solid business proposition to better lives for people around the world. Our pumps can help small to mid-scale commercial farmers increase their crop yields at lower costs. With the support and help of Climate-KIC we can help create more jobs in the green economy and bring down CO2 levels in Europe and around the world. Winning this award is a major step on our exciting journey to innovate for impact."
Paul Kloppenborg, CEO of Global Cleantech Capital and chairman of the Venture Competition jury, added: Climate-KIC's pan-European competition is a unique platform – to be nurtured and to be judged as an entrepreneur starting to realise their dream into real societal impact. Entrepreneurs and innovators hold the key to responding to the global climate challenge. In the 14 years of investing in entrepreneurs and innovators, I've experienced that the tools to improve the talent and skillset are limited. Climate-KIC's unique approach is ensuring that the brightest start-ups in Europe are getting the support to develop skillsets required to become a real success to have impact on climate change for societies and communities.
The winners
1st prize aQysta – a floating, hydro-powered irrigation system that can increase crop yield up to five times and replace traditional diesel-powered systems
2nd prize Nordic Power Converters – a power conversion technology which solves several problems in products like LED lighting and chargers
3rd prize Reduse – remove print from paper using laser. Printed paper in; plain paper out. This technology lets you reuse office paper several times before it gets recycled
In total, 18 finalists from across Europe competed in the competition's final stage:
GrowUp Urban Farms – produce high-quality salads, herbs, microgreens and fish on sustainable farms close to consumers
Reduse – remove print from paper using laser. Printed paper in; plain paper out. This technology lets you reuse office paper several times before it gets recycled
Greengineering – a flexible system for capturing waste thermal energy from waste water which helps to reduce energy consumption in domestic and commercial settings
HitchHyper –a service helping with communal car sharing
Nordic Power Converters – a power conversion technology which solves several problems in products like LED lighting and chargers
Rewinner – replacing poor quality windows in Eastern Europe with used windows from Switzerland
CLOSCA – a collapsible bicycle eco helmet for easy storage
ReVibe Energy – a sustainable and self-sufficient power source for low-current applications
Agromet – meteo-climatic services, related to weather forecasts, for companies whose activities are influenced by weather
ViriCiti B.V. – an off-site pro-active vehicle energy management system which remotely monitors and influences energy consumption of electrically driven buses
aQysta – a hydro-powered irrigation system that can increase crop yield by two to five times
PlugSurfing – Europe's number one app for electric vehicle drivers with the vision of allowing them to find charging points and pay for the charging session wherever they go
ImagineCargo Sustainable Courier – a courier system to deliver packages by bike-train-bike instead of truck-plane-truck
INTEKO – a simple and cheap electric power generation technology using exhaust heat produced by heavy trucks and buses. Application of this technology allows to reduce the fuel consumption and as a result it significantly reduces the CO2 emission.
e. Ray – creating a clean and stable energy source by harnessing the free flowing energy of rivers
Green City Solutions – a customised solution for urban spaces designed under the criteria of sustainability and combines a vertical plants' display with air purification
YNSECT – creating insect biorefineries to develop high value products for animal feed, especially for aquaculture
Evolution Energie – offers energy efficiency software for industry to understand, analyse and reduce energy consumption across multiple sites, reducing costs and improving competitiveness.
Notes to Editors
* Climate-KIC's 12 European hubs are based in: London, Paris, Utrecht, Berlin, Zurich and Copenhagen, Valencia (Spain), Central Hungary, Emilia Romagna (Italy), Lower Silesia (Poland), Hessen (Germany) and West Midlands (UK)
Venture Competition 2014 press materials: http://releasd.com/915e
Venture Competition 2014 website: http://www.climate-kic.org/best-climate-venture-2014
About the awards
Climate-KIC Venture Competition rewards the best start-ups that have been recruited into the Climate-KIC Accelerator. Local pitch contests take place across our national and regional centres with expert jury's deciding which start-ups go on to the European finals.
About Climate-KIC
Climate-KIC is the EU's main climate innovation initiative. It is Europe's largest public-private innovation partnership focused on mitigating and adapting to climate change. Climate-KIC consists of companies, academic institutions and the public sector.
The organisation has its headquarters in London, UK, and leverages its centres across Europe to support start-up companies, to bring together partners on innovation projects and to educate students to bring about a connected, creative transformation of knowledge and ideas into products and services that help mitigate and adapt to climate change.
Climate-KIC currently has centres in France, Germany, The Netherlands, Switzerland, Denmark and the UK and is represented in the regions of Valencia, Central Hungary, Emilia Romagna, Lower Silesia, Hessen and the West Midlands.
Climate-KIC is one of the Knowledge and Innovation Communities (KICs) created in 2010 by the European Institute of Innovation and Technology (EIT), the EU body tasked with creating sustainable European growth while dealing with the global challenges of our time.
Climate-KIC's Accelerator programme helps to connect start-ups with the right experts, formulate business plans, develop entrepreneurial skills and help fund businesses through their early stages.