CommLab India Envisages Its Vision for the Coming Years
CommLab India celebrated its achievements over the last six months at a resort. The event was a phenomenal success, and the employees of the organization shared their thoughts on the future plans of the company and creating customer delight.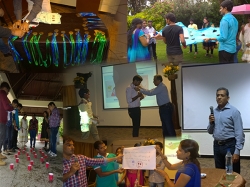 Hyderabad, India, November 04, 2014 --(
PR.com
)-- CommLab India, a leading eLearning service provider, celebrated its half yearly achievements at an off-site event. Employees met in an informal atmosphere, shared their vision and reaffirmed their commitment to the growth of the company, as they reviewed the growth and progress over the last six months.
Speaking on the occasion, Mr. RK Prasad, Co-Founder and CEO of CommLab said, "Our success wouldn't have been possible without our goal-oriented and dedicated team. So, I thought this is a good time to understand their aspirations and how we can align our company's vision to theirs."
The staff members were asked to define their vision. They were asked to list the values that are currently practiced in the company and those that they want to practice. The employees came up with some invaluable insights that go a long way in making the organization a value-based firm that aligns employee aspirations with its own vision.
The team stated that delivering products of very high quality and creating customer delight are its top priorities, followed by team work and respect to the individual. They also highlighted a few aspects that need to be focused on.
Sharing her thoughts, Dr. Ayesha Habeeb Omer-COO said, "I am happy to note that the employees rated customer support and quality very highly. CommLab has always worked to keep up with times. Our close interaction with our clients enabled us to understand their business needs and respond with appropriate processes and systems. We believe this has enabled us to forge a strong relationship with our clients and we would continue the same."
The celebrations ended with the distribution of prizes to the winners of the sporting events, held earlier this month.
About CommLab India:
CommLab India started providing online training services, when the industry was still evolving. Since then, they have reinvented themselves many times to suit the needs of growing clientele and keep pace with changing markets and technologies to deliver top-notch services. This customer-centric approach has enabled the company to register a 75% growth last year.
From just 3 employees in 2000, the company has grown into a leading eLearning services provider with more than 120 employees who specialize in instructional design, multimedia development and project management in the last 14 years. Over the years, CommLab has serviced more than 100 clients with presence in over 32 countries.
Contact
CommLab India
Ayesha Habeeb Omer
+91-40-27803080
www.commlabindia.com

Contact