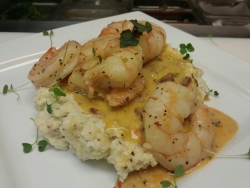 Nashville, TN, November 05, 2014 --(
PR.com
)-- Magnolia South, now open in Nashville, provides intimate fine dining in an historic setting. The restaurant showcases Executive Chef Sean Barger's Southern cuisine with French influences prepared mostly with the best locally sourced ingredients.
Located at 1808 Hayes Street, the fine dining establishment will operate as Magnolia South, owned and managed by Southern Ground Restaurant Group, LLC. Whether dining for business or pleasure, Magnolia South offers its guests with an exceptional upscale dining experience that will consistently exceed their exceptions.
"We are thrilled to be opening our restaurant in Nashville," said partners Kim Basham and Sean Barger. "We chose a cuisine and historic building that fit who we are; we both have a love of history, food, and true southern hospitality so, it just made sense for us when we made the decision to follow our dream."
Magnolia South serves a full menu that is ever changing with the seasons and creativity of its Executive Chef, Sean Barger. Chef and partner Barger delights his guests with beautifully adorned plates and cups with recipes of his own creation as well those from long ago including his mother's cucumber and tomato salad, shrimp and grits and his Percy's Mint Julep.
Executive Chef Sean Barger's love for food and cooking developed at an early age, growing up on the family farm in Summertown, Tennessee. He spent many treasured hours in his mother's kitchen learning to prepare vegetarian meals using fresh, local produce. He was taught early by a local mentor Juanice Hannah, that food is more than sustenance; it is an expression of love, joy, family, fellowship, and the centerpiece for the celebration of many life events. "Food is powerful, it is personal. The taste and aroma of a certain food can trigger a memory, bring comfort or joy." This realization along with his love of food and cooking grew into a passion that ultimately lured him to the culinary world and eventually to this realized dream.
The historic Magnolia South building on Hayes Street in West End Nashville dates back to the 1890's. The building has been a multitude of things over the years including a family residence, a boarding house, and even a doctor's practice. The décor in the building is engaging and very much complements the cuisine. Highlights include four separate dining rooms, original fireplaces, transom windows, hardwood floors, high ceilings, historic framed art and photos from the Griffith family (building owners from beginning of doctor practice until present and Briarpatch catering owners) and an outdoor patio with sculpture garden and covered seating.
Magnolia South is open for lunch service Monday- Friday from 11:00 am to 2:00 pm, dinner Monday – Thursday from 5 pm – 10 pm and Friday-Saturday from 5 pm -11pm, and Brunch on Saturday and Sunday from 10 am to 2pm. Street parking and Valet are readily available. Visit the restaurant on the web at magnoliasouthnashville.com for reservations, also available through opentable.com or call (615) 840-6167.