Goodman Beck Publishing Releases NAMI President's Third Mental Health Advocacy Novel
The Chocolate Debacle expertly addresses the societal effects of mental illness.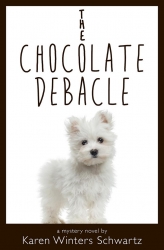 Norwood, NJ, November 06, 2014 --(
PR.com
)-- NAMI Syracuse President Karen Winters Schwartz's third novel, The Chocolate Debacle, has been released nationally by Goodman Beck Publishing. As she did in her first two books, Winters Schwartz opens up discussions about the need for empathy and the impact of the negative stigma associated with neurobiological brain disorders. Through literature, she educates while entertaining and strives to elicit empathy while telling a great story.
The Chocolate Debacle, a mystery novel set in Skaneateles, New York, tells the story of 26-year-old dog walker Trey Barkley, who, due to a brief chocolate bar encounter, is arrested for a murder he may or may not have committed. This threatens his livelihood, his freedom, and the sanity he's worked so hard to maintain. Plus it's the murder of his only real friend, Mrs. Florence Loughton. The Chocolate Debacle is a captivating story where two lonely people come together and form an odd friendship that comes to an abrupt and troubling end on the day Flo dies.
While her first novel, Where Are the Cocoa Puffs?: A Family's Journey Through Bipolar Disorder looks at the effects mental illness has on a family, and her second novel, Reis's Pieces: Love, Loss, and Schizophrenia stresses the effects of mental illness on the individual, The Chocolate Debacle takes a tough, real look at the societal effects of mental illness - both to the individual and to society.
Aside from being the president of NAMI (National Alliance on Mental Illness) Syracuse and a consummate advocate for mental illness awareness, Winters Schwartz is a sought-after national speaker at health association events and conferences across the country. She knows firsthand the devastation that mental illness can wreak on a family and has talked to hundreds of families who have dealt with the frustration of a broken mental health care system. She has experienced the price of stigma and has felt the isolation that ignorance, misunderstanding, and judgment can inflict on everyone involved. She knows how these misconceptions delay and thwart necessary treatment - at its best leading to loss of jobs, productivity, and relationships, at its worst leading to tragedies such as suicide, violence, and mass murder. She has also experienced the joy of the recovery of a loved one, stressing early detection and treatment as the key to this success
Early Praise for The Chocolate Debacle:
"A must read."
—Lisa Rojany Buccieri, publisher and editor-in-chief of New York Journal of Books
"Superbly crafted."
—David Kaczynski, executive director of Karma Triyana Dharmachakra Buddhist monastery and brother of Theodore Kaczynski, a.k.a. the Unabomber
"Tells a very real story."
—Xavier Amador, author of the international bestseller I Am Not Sick, I Don't Need Help!
"More than a mystery novel."
—Mary Giliberti, executive director of the National Alliance on Mental Illness
Winters Schwartz will be speaking at the NAMI-NYS Educational Conference Workshop at The Desmond Hotel (660 Albany Shaker Road, Albany, NY) next Saturday, November 15, at 5:30 p.m. More information can be found at her official site: www.karenwintersschwartz.com.
The Chocolate Debacle is available from all major booksellers.
Contact
Goodman Beck Publishing
David Gettis
201.403.3097
www.goodmanbeck.com

Contact