Houston Public Media to Broadcast Grammaropolis Videos as Part of Its Children's Educational Programming Schedule
"Schoolhouse Rock for the 21st Century" is coming to PBS in the fourth-largest media market in the country.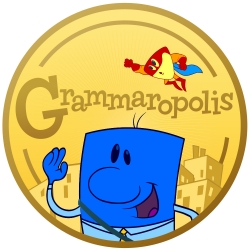 Houston, TX, November 11, 2014 --(
PR.com
)-- Grammaropolis LLC, which has been hailed as the "Schoolhouse Rock of the 21st Century" is thrilled to announce that its animated short videos will be broadcast on Houston Public Media TV 8 during the station's daily educational programming schedule.
This marks the broadcast television debut of characters such as the shady pronoun always trying to take the noun's place or the motherly conjunction who just wants everyone to get along. Developed by educators, for educators, Grammaropolis uses personification to explain the role of a single part of speech as it relates to the others, using narrative, character, and conflict to show that relationship in action.
"As a child of Schoolhouse Rock, I wanted to create something that resonates with the current generation of language learners in the same way that content like 'Conjunction Junction' and 'I'm Just a Bill' did with me," says Founder (and Mayor) of Grammaropolis, Coert Voorhees. "I'm thrilled that these short interstitials will be shown on Houston Public Media. In a way, it feels like they're coming home."
Houston Public Media's Kimberly Corson, Ph.D., Director of Educational Initiatives and Projects comments, "The Education and Outreach Department at Houston Public Media is pleased to partner with Grammaropolis because these creative pieces fit well with our mission to inspire our audience and make learning accessible to everyone."
Mayor Voorhees says that the visual nature of television is a perfect home for Grammaropolis's story-based approach. "People respond to story and character on a visceral level. Anyone can memorize the fact that a pronoun takes the place of a noun, but if you show a video of a pronoun conning a noun into giving up his place in line at the bus stop, a student will make a deeper connection with that information." He continues, "We're making grammar lessons fun, and so far the response from teachers, parents, and students has been overwhelming."
A collection of up to twenty mini-episodes will begin airing on November 10, 2014. Dr. Corson looks forward to viewers in the Houston area being able to experience the innovative approach: "Grammaropolis segments provide an engaging introduction to grammatical concepts, which can aid with building literacy skills and with getting children excited about language."
Grammaropolis will also soon be releasing a new mobile app, "Punctuation – End Marks," to a library that already includes two apps that have reached the Top 10 in the Education category in the Apple App Store.
For more information about Grammaropolis, or to see a sample of the videos and experience the story-based approach for yourself, please visit
http://grammaropolis.com
.
About Grammaropolis LLC
Grammaropolis LLC is a multi-platform educational company that uses the parts of speech as animated characters starring in songs, books, games, and videos. The company's iOS Apps have received numerous features in the App Store and are currently in the "Kickstart Your School Year" and "Apps for Elementary School" curated collections. The company's first song, "Welcome to Grammaropolis," was a Top 10 national hit on SiriusXM Radio's Kids Place Live. Grammaropolis was created and refined in the ultimate proving ground: the classroom.
About Houston Public Media
Houston Public Media is home to TV 8 and radio stations News 88.7 and Classical 91.7. Its broadcast and digital resources bring the residents of Southeast Texas a specially curated mix of trusted local news and entertainment along with exceptional national programming from NPR and PBS. Houston Public Media is a public service from the University of Houston, its license holder, and is supported with financial gifts to the Houston Public Media Foundation. With a combined weekly audience of more than 1.5 million, Houston Public Media is committed to delivering content that expands minds and possibilities with trusted information. Connect on Facebook at facebook.com/houstonpublicmedia and Twitter at twitter.com/HoustonPubMedia.
Press contacts:
Coert Voorhees
Mayor of Grammaropolis
mayor@grammaropolis.com
415-308-9232
Kimberly Corson, Ph.D., CFLE

Director of Educational Initiatives and Projects
Houston Public Media

kcorson@houstonpublicmedia.org
713-743-8716
Contact
Grammaropolis LLC
Coert Voorhees
415-308-9232
edu.grammaropolis.com

Contact
Multimedia
"A Pronoun Takes the Place of a Noun." This is a sample of one of the videos to be broadcast on Houston Public Media TV-8.