Eminent Spine Black Diamondback Rattlesnake™ Successfully Implanted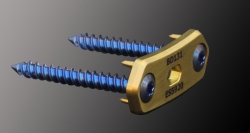 Georgetown, TX, November 12, 2014 --(
PR.com
)--
Eminent Spine
is proud to announce that spinal surgeon Dr. Stephen Courtney in Plano, TX performed the company's first lateral lumbar plate surgery - the "
Black Diamond Rattlesnake™
." The surgery was performed on October 27, 2014. Dr. Courtney has successfully implanted the newly released FDA product in three patients.
Dr. Courtney stated, "Eminent Spine has developed a lateral plating system that provides immediate fixation. The lumbar plate system utilizes Eminent Spine's patented technology. The beauty of the plate system is that the technology is designed into the implant system, therefor saving operating room time. The screws are flush with the plate and minimize potential neurological deficits. The extensive biomechanical tests demonstrated that the plate is safe and an effective product."
The extensive research and development utilizing Eminent Spine patented TriLobe® technology is a clear advancement in lumbar plating. The screw heads are flush with the plate and no extra bolts are needed that could cause potential neurological deficits. Eminent Spine has again showed its ability to bring safe and effective spine products to market.
Contact
Eminent Spine, LLC
Steve Courtney
512-868-5980
www.eminentspine.com

Contact