Gaw | Poe LLP Prevents MedeAnalytics, Inc. from Shutting Down Business Operations of Stella Systems, LLC
Gaw | Poe LLP client Stella Systems prevails on Motion for Preliminary Injunction filed by MedeAnalytics seeking to compel Stella to surrender its computer equipment.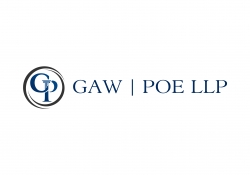 San Francisco, CA, November 12, 2014 --(
PR.com
)-- Gaw | Poe LLP today announced it has prevailed in the U.S. District Court's decision to deny a motion for a preliminary injunction against client and health care industry software provider Stella Systems, LLC. Stella has filed a breach of a non-solicitation agreement lawsuit against health care analytics company MedeAnalytics, Inc. alleging that the latter has surreptitiously poached its employees over the course of several years while Stella was providing analytics and engineering services to MedeAnalytics. Acting as co-counsel on behalf of Stella Systems is Christopher Wimmer and Greg Demirchyan of Emergent Legal, while MedeAnalytics is represented by Keker & Van Nest LLP. Trial is set for October 15, 2015.
The order in Stella Systems' favor was issued by United States Magistrate Judge Laurel Beeler of the U.S. District Court for the Northern District of California. The decision in favor of Stella came on the heels of a last-minute flurry of activity in the case last month, including a 700-page request filed by Keker & Van Nest LLP, asking the court to issue an immediate temporary restraining order that would have essentially shut down Stella's operations by forcing it to immediately surrender a substantial portion of its computer equipment.
"We were pleased to see that the court took the time to really dig into the issues. And hold that MedeAnalytics is not likely to prevail on the merits," said Gaw | Poe LLP partner Mark Poe.
"MedeAnalytics has allegedly attempted to distract the court away from its wrongful conduct towards Stella that engendered this lawsuit. Thankfully, that effort has not had much success thus far," added Gaw | Poe LLP partner Randolph Gaw.
This motion victory is just the latest win for Gaw | Poe LLP's legal team. Clients historically represented by firm attorneys—ranging from a Big Three auto manufacturer and a Fortune 500 homebuilder to publicly traded software developers - have prevailed at trial or on appeal in matters collectively approaching $4 billion.
The lawsuit is Stella Systems, LLC, et al. v. MedeAnalytics, Inc., No. 3:14-cv-00880. Those interested in learning more about this action or Gaw | Poe LLP's services may contact Gaw | Poe LLP at 415-766-7451.
About Gaw | Poe LLP
Gaw | Poe LLP is a San Francisco Bay Area boutique law firm focusing on business litigation, intellectual property litigation, and appeals. Founders Randolph Gaw and Mark Poe are graduates of Stanford Law School and have practiced extensively with some of the largest and most prestigious law firms in the world. The firm is experienced at handling disputes on behalf of a wide range of clients from small businesses to Fortune 500 companies to high net worth individuals.
Contact
Gaw | Poe LLP
Randolph Gaw
415-766-7451
www.gawpoe.com

Contact