Larchmont Woman Launches Web-Store with Unique Danish Home Accessories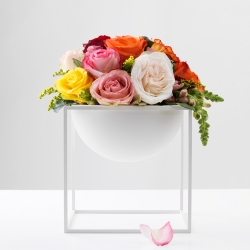 Larchmont, NY, November 13, 2014 --(
PR.com
)-- Copenhagen native and marketing expert, Louise Fischer of Larchmont, NY has launched Kontrast, an online boutique offering Danish home accessories and special-order furniture by classic and up-and-coming designers. Fischer, a former Madison Avenue marketing executive, was born in Denmark and moved to the U.S. 20 years ago. She returns to her hometown each year to see family and friends and, on a recent visit, was inspired to create Kontrast.
"Danish design is known around the world for its simplicity, style and function," said Fischer. "I was excited about the challenge of creating something I was really passionate about, something that was my own. Bringing unique Danish design that I love, here to the U.S., became the obvious choice."
And offering the products online -- at www.shopkontrast.com -- makes the shopping experience simple and convenient. "I want to make it easy for people in the U.S. to buy these unique, beautifully designed products -- at price points that work for them."
While Danish design is considered by many to be modern, the accessories and furniture offered by Kontrast suit all types of interiors and can add beautiful contrast to a home. The products also are ideal as wedding presents, housewarming and hostess gifts, as well as special birthday and anniversary gifts. "I think Europeans and Americans alike will appreciate the products since they fit in with most interior styles," said Fischer. "Kontrast is for the design-conscious individual who seeks something unique that can't be found at the usual U.S. retailers."
Kontrast will have a launch and shopping event Nov. 20 at the founder's home in Larchmont, NY, 22 Country Club Drive. Please contact louise@shopkontrast.com for details. To preview and shop, visit www.shopkontrast.com.
About the founder: Louise Fischer hails from Copenhagen and left a long career in the New York advertising industry to pursue Kontrast. She has held senior positions at leading advertising agencies TBWA, Anomaly and SS&K. She lives in Larchmont with her husband and three children.
About Kontrast: Established in 2014, Kontrast offers unique home accessories and special order furniture for adults and children, by Danish design firms Louise Roe, By Nord, By Lassen, VITA Lighting, Kähler Design and Ferm Living. Kontrast's product line will be expanded soon.
Contact: Louise Fischer, Founder
Phone: 646-258-9798
Web Site: www.shopkontrast.com
E-mail: louise@shopkontrast.com
Contact
Kontrast
Louise Fischer
646 258 9798
www.shopkontrast.com

Contact