MobiQuest's M'Loyal Platform Bags Award for Innovation in Business Intelligence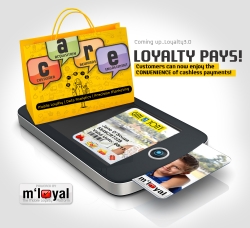 Noida, India, November 16, 2014 --(
PR.com
)-- MobiQuest, a leading Enterprise Mobility company, proudly announced that its flagship mobile loyalty platform – M'Loyal was awarded the Aegis Graham Bell award for Innovation in Business Intelligence.
The award was received by the MobiQuest team at the Aegis Awards ceremony held at Jantar Mantar, Delhi. Aegis Graham Bell Awards is the only and the largest innovation awards for Time (Telecom, Internet, Media & Edutainment). M'loyal is the leading most comprehensive self-serve Mobile Loyalty Platform deployed across India, Malaysia, Dubai & Singapore by over 120 brands and engaging 40 mn+ consumers on the m'loyal network.
M'loyal focuses on creating a strong value proposition for modern retail to capture consumers across all brand touch points, cluster them based on purchase, frequency & product category usage. Once rightly clustered, the platform allows you to send out digital campaigns to specific clusters and track ROI in real time at your POS.
M'loyal links directly to the POS of retailers and mines data right at the source to track purchase and repeat by mining data in real time and churning out analytics & insights for one-one consumer marketing.
According to Sabina Kamal, COO, MobiQuest, "The platform has evolved and now caters to all aspects of retail consumer engagement, our analytics engine today allows you to dice / slice customers based on demographics, purchase patterns, buying behavior, location, data / time analysis, product category / SKU level & frequency trends. We are continuously innovating to make m'loyal, a defacto standard for Retail Loyalty, Mobile Communication and Retail Analytics."
MobiQuest has created one of its kind Loyalty & Customer Acquisition infrastructure to help brands acquire customers at their POS, Social Media, Web & Shop in Shop formats using handheld devices. M'loyal is a comprehensive platform combining tools across media to analyze consumer purchase patterns and increase redemptions and repeat purchase for the brand.
About M'loyal:
m'loyal™is a disruptive technology platform in the mobile loyalty space, enabling retailers and B2C businesses to Acquire, Engage and Reward their customers in the most innovative manner. m'loyal™ platform integrates with brand POS and other social, web and mobile channels to capture customers, cluster them based on purchase, frequency, product category usage and drive analytics based campaigns that result in much Higher ROI on the marketing expense of the brand.
m'loyal™ is a Self Serve mobile loyalty, data analytics & precision marketing platform that beautifully combines the use of mobile technology, coupled with web based CRM and visual analytics to produce amazing business results for retail brands. The ease of deployment, hassle free SAAS model and fanatic functionality makes it the most desirable tool for marketers to drive huge ROI on their marketing ideas / campaigns / budgets.
Contact
MobiQuest
Vineet Narang
9811123206
www.mloyal.com

Contact