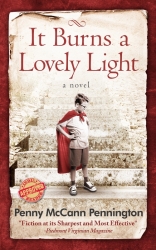 Los Angeles, CA, November 18, 2014 --(
PR.com
)-- USABookNews.com, the premier online magazine featuring mainstream and independent publishing houses, announced the winners and finalists of The 2014 USA Best Books Awards on November 12, 2014. Penny McCann Pennington's novel, "It Burns a Lovely Light," has been named a finalist in the Woman's Literature category.
Jeffrey Keen, President and CEO of USA Book News, said this year's contest yielded over 2,000 entries from mainstream and independent publishers. "The 2014 results represent a phenomenal mix of books from a wide array of publishers throughout the United States."
Winners and finalists traversed the publishing landscape: Simon & Schuster, Penguin, John Wiley & Sons, Houghton Mifflin Harcourt, Kensington Books, Harlequin, McGraw-Hill, Llewellyn, Yale University Press, Cornell University Press, University of Missouri Press, White House Historical Association, Wisconsin Historical Society Press, American Bar Association and hundreds of independent houses contributed to this year's outstanding competition.
At times hilarious, heartbreaking and dark, "It Burns a Lovely Light" is a novel about a (possibly-too-close) military family that implodes, leaving the eldest daughter to give up her plans of university to care for her autistic savant brother. They move to their aunt's falling-down boarding house overlooking the city of Pittsburgh as the city is recovering from the loss of its great steel industry. The funny, loving, eccentric members of the boarding house form a patchwork family, coming together in the face of the threat of foreclosure.
"It Burns a Lovely Light" can be found on Amazon, Kindle, Nook, Barnes&Noble, Scribd, Goodreads, and select book stores.
Visit "It Burns a Lovely Light" on Facebook for more information.
A complete list of the winners and finalists of The 2014 USA Best Book Awards are available online at http://www.USABookNews.com.