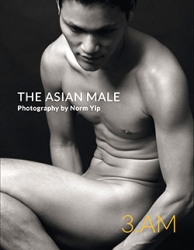 Hong Kong, Hong Kong S.A.R., November 22, 2014 --(
PR.com
)-- Following a seven year hiatus since his last publication, artist Norm Yip - known for his photographs of nude Asian men - continues his passion for photographing the human form in The Asian Male – 3.AM. The third book - more progressive and mature than his previous works - pushes the boundaries of the Asian male to a new level of appreciation and perhaps even controversy.
A majority of the images presented in the book are in black and white and retains his signature touch of integrity and sophistication. A proponent of Classicism, he is not swayed into the typical strategies of sensationalism and cleverness of image manipulation typical to most photography today; simplicity and honesty is his credo.
"It was my privilege to photograph several dancers for 3.AM. Their bodies lent themselves to creating images that were not previously encountered in my first books The Asian Male – 1.AM and The Asian Male - 2.AM," said Yip. "It's a difference you can see in photographs featuring aerial artist Monika Ell, a darkly tanned Columbian-Albanian from the USA, and Rick Hok-Leung Cheung, a freelance dancer in Hong Kong. Both provided me with a great amount of freedom in posing nude in front of the camera."
3.AM also features models styled by fashion stylist Patryk Chaou, introducing fashion elements into Norm's repertoire of work in a subtle yet distinctive way. Yip elaborates, "Sometimes, you know there is something special going on in a photography session, where things seem to flow effortlessly, and the creative juices flow from one shoot to the next. It was like that when working with Patryk and the models."
For fans of more risque material, Norm photographed several young men in bondage. "I've never included images like these before as it is an area that is still widely misunderstood. For the participants, it is both erotic, spiritual and a unique art form and I hope that I've done it justice in my photos," added Yip. "The rigger or roper was trained by a master in Japan, and known in the underground scene. It is a rare opportunity that I will never take for granted to have seen and photographed the art of bondage in action."
The Asian Male Series
The Asian Male series is a collection of photography books by Norm Yip that document the growth and progression of the Asian male nude as a primary subject for photographic investigation. The first book The Asian Male - 1.AM was published in 2005; subsequently The Asian Male - 2.AM was released in 2007. The Asian Male - 3.AM is Norm's third book. It is a 9 x 12" hard-cover edition containing 112 pages, with 76 images. ISBN: 978-988-98259-6-6. http://theasianmale.com
About the Author
Norm worked for a number of architectural firms in Canada and Hong Kong before leaving the field to pursue his deeper interest in art and photography. Norm Yip's photographs of Asian males have appeared in international publications such as 2blue and Dreamboys 2 as well as photography books Nude 3 by Feierabend Unique Books and Night Visions by Bruno Gmuender. He has also photographed international artists including Jennifer Lopez, Ricky Martin, Vonda Shepard, Destiny's Child and Zhanghi Yimou.
Information:
Norm Yip +852 25406267 or +8252 68388948
; Email: nwy@normyip.com