Eternal Press & Damnation Books Release New December 2014 Titles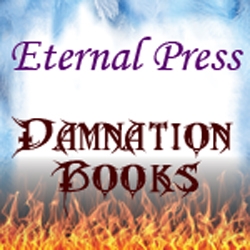 Santa Rosa, CA, November 30, 2014 --(
PR.com
)-- Damnation Books and Eternal Press are closing out the year 2014 with releases from both houses.
The owners, William Gilchrist and Kim Richards Gilchrist have continued to provide readers with quality, affordable fiction.
Damnation Books and Eternal Press now have autographed copies of various paperback books for sale at eBay.
The following is a list of titles, authors and genres that released in December 2014.
Eternal Press
· Future Girls (Book 1 of The Future Girls Trilogy) by Catharine Bramkamp
YA/Science fiction/Time travel
· Wrath of the Carnelians (Europa Series: Book 2) by Jason Gehlert
science fiction/action adventure
· Elements Rising (Book 1 The Elements Series) by April Wood & Aiden Bream
Paranormal Romance
· The Witch Within (Book One of the Ancestor's Enchantment Trilogy) by Jacqueline Paige
Paranormal Romance
· The Interpretation of Love and the Truth by Barbara Winkes
Lesbian Romance
Damnation Books
· The Medallion by Len Abram
Crime Thriller
· Feral Things by Erin Cole
Horror/Thriller/Creature werewolf
· Chupacabra by R. D. Merlos
Historical/Fantasy/Horror
· Spiritwood by George Wise
Horror/Paranormal
· Smut by Matt Micheli
Dark/Transgressive/Psychological/Erotica
· Wolf Asylum by Mark Fuson
horror, supernatural
Damnation Books,
http://damnationBooks.com
, and Eternal Press titles,
http://eternalPress.biz
, are available in the most popular e-formats on their websites and at major e-tail outlets. Including iTunes, B & N, Amazon, OmniLit, Coffee Time Romance and others. The distribution list can be found on the company websites.
Like them on FaceBook, follow them on Twitter @damnationbooks, @eternalpress.
Review copies of any titles listed above may be obtained by email to
EternalPressPromotions@gmail.com
.
Contact
Damnation Books
Sally Franklin Christie
406-209-1403
http://damnationbooks.com

Contact