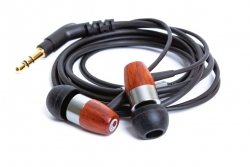 Somersworth, NH, December 03, 2014 --(
PR.com
)-- thinksound™ announces the release of the rain2, in-ear high-definition headphone with passive noise isolation and beautiful wood housing.
Building upon the success of the award-winning rain headphones, thinksound is proud to announce the all-new rain2. The rain2 features a 9mm dynamic speaker driver, an improved housing design to provide better ergonomics, upgraded acoustics for more accurate sound reproduction, and a wider sound-stage compared to the previous model. The result is an enjoyable and versatile headphone that was engineered to have a smooth sound signature.
"The rain2 is a headphone that I've wanted to make for a long time," says Aaron Fournier, President and CEO of thinksound. "The original rain was one of the very first headphones I designed for thinksound. It has been a headphone that I've always enjoyed listening to; but with everything that I do, I'm always looking for ways to make improvements or refinements. The rain2 is culmination of those improvements. It builds upon the great characteristics of the rain while introducing some acoustic and aesthetic changes. I'm very happy with how the rain2 turned out."
Unlike previous rain model, the rain2 will be available in a single finish – a gunmetal baffle mated to chocolate-stained wood housing. All thinksound headphones include four different-sized silicon earbuds to ensure a comfortable fit. A cotton carrying case pouch is also included to carry the headphones, and includes room for an iPod or smartphone.
thinksound offers six different in-ear headphone models, an on-ear monitor and a growing line of accessories. The new rain2 in-ear 9mm high-definition headphone, ms01 in-ear 8mm high-definition monitor, ts02 in-ear 8mm high-definition headphone, ts02+mic in-ear 8mm high-definition headphone with integrated microphone and call control, rain in-ear 9mm high-definition headphone with passive noise isolation, ts01 in-ear 10mm high-definition headphone with passive noise isolation and enhanced bass and the On1 40mm on-ear studio monitor.
thinksound headphones are assembled primarily from renewable, recyclable resources like wood and aluminum, and feature PVC-free cables. The packaging is made from recycled materials. The design eliminates the typical plastic bubble normally associated with headphones and small electronics packaging that are bad for the environment and often hard to open.
About thinksound™:
thinksound™ began with a simple goal; to create incredible sounding headphones with the smallest eco-footprint possible. thinksound™ headphones are made with real wood, creating a more natural resonance and unparalleled acoustics.
thinksound™ takes their environmental impact as seriously as they do their audio products. All packaging is crafted from recycled materials, with minimal plastic components. Our headphones feature PVC-free cables and wood from renewable sources. The result is great sound that you can feel good about.
thinksound™ was founded by audio and consumer electronics industry leaders with over 25 years experience bringing exceptional audio products to market. They invite you try their headphones to experience the difference that quality craftsmanship and better attention to detail make. thinksound™ is owned and operated by TIMBRE SOUND LLC.
For additional information please contact hello@thinksound.com or visit www.thinksound.com.