Image Mill and The Bainbridge Art Museum
Produced and installed the exterior graphics on moving louvers.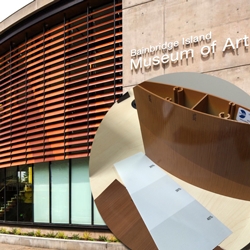 Monroe, WA, December 09, 2014 --(
PR.com
)-- If you are ever on Bainbridge Island take note of the beautifully designed Art Museum and it's moving imaged louvers. The image was produced and installed by Monroe Washington based "Image Mill."
The objective was to make it a simple design. What's behind the scene is another story of extensive color calibration, testing and collaboration between the designers and architect. There is no magic big red print button!
"The use of a lift was the only way to achieve this," states Scott Minette, owner of Image Mill. "Proper alignment of the image on the louvers was critical and not an easy task," states Minette. All in all the project turn out and exceed client satisfaction.
About Image Mill: Image Mill is a Wide and Grand format printing solutions company located in Monroe WA. Our clients consist of major retailers, hospitals, designers and architects to name a few. Image Mill employ's certified 3M installers worldwide.
www.imagemill.com
Contact
Image Mill
Scott Fithian
425-861-8651
www.imagemill.com

Contact