Cycle, Trek and Horse Ride Mongolia with SpiceRoads Cycle Tours
SpiceRoads is reaching higher altitudes with the launch of a multi-activity tour across the magnificent rugged plains of Mongolia.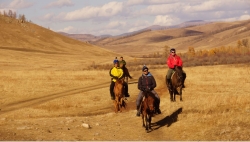 Bangkok, Thailand, December 15, 2014 --(
PR.com
)-- SpiceRoads Cycle Tours, the leading bicycle tour operator in Asia for more than a decade, has launched a 9-day multi-activity adventure of biking, trekking and horse riding across one of the most unspoilt locations on the planet, the Mongolian Steppe.
The special multi-activity exploration will cover 218 kilometres across a variety of terrain with breathtaking scenery.
This tour has been designed for those thirsting for a real challenge. Highlights of the tour include cycling on dirt trails used by wild animals and local herdsmen, hiking through dense pine forest to conquer the majestic 2656 metre high Altan Olgi Mountain and horse riding through gorges alongside gushing rivers.
Other highlights include stargazing in a tented camp by crystal clear lakes, learning some of the Mongolian traditions that have been passed down for centuries, such as sampling horse milk and cheese, and staying a night in a "ger," a traditional felt-covered tent.
Due to the remoteness of the activities and minimal contact to civilization, except for the odd friendly nomad tending his flock, the scenery is the main attraction. Mongolia is home to vast grasslands, towering mountain ranges, magnificent dense cedar forests, fast flowing streams, meadows filled with glorious wild flowers and an abundance of wildlife including bears, wolves and deer.
As most of the trip takes place off-road, a moderate level of physical fitness with confidence tackling rough terrain is recommended. Prior horse riding experience is not a prerequisite but a willingness to have a go is. Mongolian horse riding technique is unique and an experienced local guide will give detailed instructions. There will also always be a support vehicle on hand.
This 9-day
Mongolian Steppe Adventure
tour covers 218 km in total: 120 km cycling, 61 kms horse trekking and 37 kms of hiking. Each activity is for 2 days. The tour costs US$2,250 and there are two departures planned for 2015: June 7 and September 6.
About SpiceRoads
SpiceRoads (www.spiceroads.com) is a specialist bicycle tour operator based in Bangkok offering a range of two-wheel tours in over 25 destinations worldwide. SpiceRoads tours cater for every level of cyclist and range from day-trips to complete country explorations. Participants are invited to join tours with fixed date departures scheduled throughout the year, while private or tailor-made tours can be arranged for groups or individuals on request. The professional operations set-up includes a fleet of well-maintained mountain and road bikes and support vehicles. All tours are led by experienced cycle guides.
Contact
SpiceRoads Co., Ltd
Sally Hoare
+66 (0) 92 504 0361
https://www.spiceroads.com/tours/vietnam_cambodia

Contact