The Popular Terra Cotta Inn Clothing Optional Resort and Spa Celebrates 20 Years of Guests Having Fun Nude Vacations, December 19th
On December 19th, 1994 Tom and Mary Clare Mulhall took a big leap of faith starting the first clothing optional resort and spa out west that catered to couples on vacation, especially first time skinny dippers. And in that 20 years time guests from around the world come back year after year making it one of the most popular of all resorts out west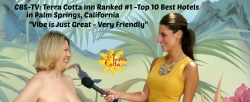 Palm Springs, CA, December 16, 2014 --(
PR.com
)-- Most nudists at one time or another would love to start their own nudist resort. But, for most, it will only be a fanciful dream. Not so for Tom and Mary Clare Mulhall, who on December 19th, 1994 decided to take the plunge and followed Nike's advice of "Just do it!"
Vacationers love the sun. What better place to start a nude sunbathing resort and spa than Palm Springs, California, the sunniest city in the US. This fun resort city average only 3 inches of rain a year making it one of the most popular vacation destinations in the world. And the media from Conde Nast Traveler, Lonely Planet, New York Times and lots more, all recommend Palm Springs vacations.
When they opened there had never been a nudist resort that catered to couples on vacation in the western US, let alone cater to the mainstream world. They did not want to be considered like old fashioned nudist colonies. Terra Cotta Inn would be the first and they are still the trend setters in the naturist travel industry.
They wanted to create a resort that was spacious and luxurious and where nudists and first timers would feel comfortable whether they stayed 1 night or 1 month. It would be affordable and luxurious.
Luckily, a famous, secluded, historic celebrity resort called The Monkey Tree was for sale in '94. It was built by Albert Frey, who is considered the father of desert mid-century modernism. It had very large rooms from 300 to 500 sq.ft. It was a beautiful 17 room inn on 1 and 1/4 acres of land. With it's high walls, it was perfect for nudists. Marilyn Monroe, Spencer Tracy, Desi and Lucy, President Kennedy and many more famous people had stayed there (and some celebrities still come for their nude vacations) from time to time.
Thus, on December 19, 1994 Terra Cotta Inn Clothing Optional Resort and Spa was born. And it became an immediate success. Being affordably luxurious, regular people could now afford a nude vacation every year. The Mulhall's knew most people hated having to go to overpriced places in Mexico and the Caribbean. Now they gave them a fun alternative in the US. To see over 500 photos of Terra Cotta Inn and Palm Springs visit their Pinterest site at
http://pinterst.com/terracottainn
All rooms have top of the line king sized beds, refrigerator/freezers, microwaves, Flat Screen TV's, Free Wifi, in room coffee and much more. Free breakfast and afternoon snacks are served daily. They pioneered early check in at 10am and late check out at 5pm at no extra charge. And best of all they have never had any resort or other hidden fees.
Repeat guests love Terra Cotta Inn as they average just over 80% repeats which is one of the highest rates in the travel industry.
Yet, first timers are very comfortable there too. As CBS TV, Palm Springs reported this summer when they picked them as #1 in their top 10 Best Hotels in the whole Palm Springs area "Vibe is Just Great - Very Friendly."
AOL Travel picked them as the most mainstream nude sunbathing resort in the US and perfect for couples trying topless or nude sunbathing for the first time. And guests from around the world stay there although most are from all over the US, Canada, England, Australia, and Mexico.
And of course the press like ABC, NBC, CBS in Palm Springs, LA, San Diego and NBC national news, BBC, Univision, Telmundo, and lots of blogs, newspapers, and magazines have all picked Terra Cotta Inn as one of the best places in the US or world to go skinning dipping on vacation.
One of the best ways to celebrate an anniversary is with a room sale. So from January 4th until January 31st on Sunday thru Thursday nights, stay one night and take 50% off the 2nd. Take a relaxing 1 week long vacation and rates are as low as $859/couple/week in January. It's their anniversary gift to everyone.
So give Terra Cotta Inn a call at 1-800-786-6938 and celebrate their 20th Anniversary by taking a fun nude vacation this winter. Say goodbye to your funny tan lines forever!
Contact
The Terra Cotta Inn Clothing Optional Resort and Spa
Tom Mulhall
1-800-786-6938
http://sunnyfun.com

Contact