Animal Care Institute is the Premier Dedicated Animal Imaging Center Including High Field MRI in the Tampa Bay Area
Animal Care Institute has just opened in Tampa. ACI is the premier animal imaging center in the area, offering Tampa's only dedicated animal MRI system. ACI has a 1.5 GE High Field MRI system that practicing veterinarians can send their patients to for the appropriate imaging approach for dogs, cats and other small pets.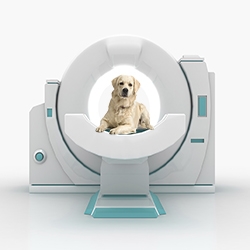 Tampa, FL, December 18, 2014 --(
PR.com
)-- Animal Care Institute is the premier dedicated animal MRI system. ACI also offers X-Ray, Ultrasound, and the ability for practicing veterinarians to utilize a state of the art surgery suite.
When your pet is sick, you want answers right away, and that means having access to the best diagnostic tools. At the Animal Care Institute, that's just what you can expect. As Tampa's first full-service imaging center dedicated solely to the unique needs of animals, the Animal Care Institute is the top choice for both pet owners and vets looking for detailed answers to animal ailments. The Institute specializes in the most advanced, state-of-the-art techniques and technology, including a 1.5 Tesla MRI system for pets, digital pet X-ray and ultrasound services so vets can choose the best and most appropriate imaging approach for dogs, cats and other small pets.
Diagnostic imaging is nothing new to the owners of the Animal Care Institute – for nearly 20 years. They've owned and operated eight imaging centers for "people" patients. That means when it came time to design a facility for animal care, they knew from years of experience how to do it right. As animal lovers themselves, the Institute was designed to provide not only top-quality imaging, but also responsive referral and consultation services for Tampa vet practices so they can work with pet owners to ensure the best care is being provided at all levels, from initial consultation through diagnosis and treatment.
Teaching
ACI is also dedicated to advancing knowledge about imaging diagnostics and other veterinary care techniques, with facilities designed for information sharing and veterinary product and technique demonstrations. Veterinarian practitioners from throughout the Tampa area and beyond regularly visit the Institute to develop a keener understanding of treatment and care options that can help them provide more comprehensive and up-to-date services for their patients.
Surgery
As an independent veterinary care facility, ACI also provides a location for local vets to perform surgery that relies on advanced imaging and other state-of-the-art tools and techniques so they can offer top-quality, cutting-edge care even if their own practice facilities are not equipped to do so. On-site staff is available 24 hours a day, seven days a week to provide a complete spectrum of ancillary care from admission to discharge for the best and most successful outcomes possible.
If you own a dog, cat or other small animal, you know how critical it is to have peace of mind regarding your pet's care. When you need the most advanced diagnostic and treatment services for your beloved pet, ACI is here to help. To learn more about the services provided by the Animal Care Institute, explore the ACI website or call the ACI at 813-977-1927.
Contact
Animal Care Institute
Greg Davis
813-977-1927
animalcareinstitute.com

Contact