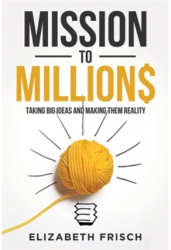 Austin, TX, December 29, 2014 --(
PR.com
)-- Woman Entrepreneur and Philanthropist Releases Book on Making Big Ideas Happen Just in time for New Year's Resolutions.
Did you know that 99% of ideas fail to launch? Just in time to help people be successful in taking their big ideas and making them happen in 2015, Woman entrepreneur and philanthropist Elizabeth Frisch's first book on Empowering People into Leadership, "Mission to Million$ - Taking Big Ideas and Making Them Reality," has released on
Amazon.com in Hardcover and Kindle
and will be hitting bookstores in 2015. Reviews on Amazon.com about the book since it released in November 2014 have been exceptional.
Just a few reviews:
"This book belongs in the hands of any change agent, fundraiser, non-profit leader, volunteer, entrepreneur, business owner - pretty much anyone who has dreams and ideas! By making herself vulnerable and sharing her lessons learned and utilizing the power of storytelling, author Elizabeth Frisch has written a very real, down-to-earth book that can help us all be better at making our ideas happen and getting people to support our cause." By Amy M King
"Elizabeth's book is immediately powerful and inspiring beginning with her acknowledgements. So many of us focus on what we haven't accomplished and waste precious energy beating ourselves up about these missed opportunities." By Jamie
"A very personal and rich discussion about the birth, death and, in the alternative, the growth of ideas. With a deep understanding of human behavior and a practical eye to making things possible, Ms. Frisch has created a road map and provided tools for turning ideas into reality. She describes the reasons we fail, or say no to our ideas, and gives us the tools to say yes, instead... A must read for someone who wants to do more than just daydream!" By SCA
About the Author: Elizabeth Frisch is a business performance consultant to Fortune 100 – 1000 companies, government agencies, non-profits and the U.S. She is a graduate of Purdue University and holds a degree in Chemical Engineering. In 2002, after the birth of her first child, she was diagnosed with two autoimmune diseases, a failing thyroid, 140 pounds overweight, and desperately trying to help her son who was diagnosed with an autism spectrum disorder.
Through that experience, Elizabeth realized she was going in the wrong direction with her career and life and that "you can't engineer humans." She quit her job, lost 100 pounds, put both diseases into remission, launched her first company, and cross-trained in psychology, health, organizational development and business transformation.
Fast forward 12 years, and she is now an author, keynote speaker, high performance coach and the Founder and CXO of The Thrival Company, a women-owned business headquartered in Austin, Texas (www.thrivalcompany.com) helping clients make their big ideas happen locally and globally.
"Leaders are made, not born. Capturing and making ideas happen, big or small, is one of the essential skills to master in order to become a great leader." - Elizabeth Frisch
The author starts her US book tour in February 2015 and is available for interviews in person, virtually, and via phone.
Mrs. Frisch can also be found on Twitter @elizabethfrisch and blogs on her "Mission to Million$" Facebook page, where she shares real life stories and experiences to support making your ideas happen.
Her media kit and a special PDF copy of the book is available to reporters with this press release.
Contacts: Deanna Koelzer, Publicist, 208.991.8264, deanna@thrivalcompany.com
Elizabeth Frisch, Author, 512.656.7518, elizabeth@thrivalcompany.com