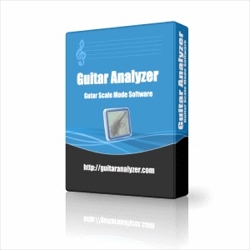 Las Vegas, NV, January 03, 2015 --(
PR.com
)-- The software is laid out in three window frame views
· View Analysis
· Relationship Chart
· Guitar Fret Board
View Analysis: Shows the finite details of the scale interval formulas and steps that vertically line up to the notes of the selected keys. A music staff displays the selected scale results in manuscript format. There is a large database of scales grouped into four categories. In scale modes you can select the scale mode degree. An audio note player can be played to give an auditory comparison of the selected primary and secondary scale or arpeggio.
Relationship Chart: Shows a list box with columns and rows with a heads up view of every scale and arpeggio that is matched by the database for each scale degree. A secondary select drop down menu lines up to the column of each selected scale mode degree. The secondary formula, music staff and guitar fret board updates as each is selected.
Guitar Fret Board: The guitar fret board shows a bordered note to display the selected secondary relationship match. You can observe the scale patterns of the primary scale to the secondary bordered scale or arpeggio. The octave scale roots are displayed with a square graphic while all the other notes are oval. There is an option to separate octave graphics by color to better observe the octave stair step patterns. The default note graphic color is green. Fret board notes can display notes with accidental sharps and flats, intervals and finger placement.
Selectable fingering type ranges can selected from one to three octaves including three shape patterns. Positions for every fingering can be displayed with the option to show the second octave. Secondary arpeggio compound intervals can be displayed within the fingering by selecting a check box for a specific string. When you check the compound box. The compound bordered notes display replacing the non-bordered first octave interval notes for that select string
Finally there is a far better and faster way to learn scales on the guitar with this new release software.
http://guitaranalyzer.com