Remarkably Renee Helps Launch Advanced Cancer Awareness Campaign, "Gonna BEAT This Thing"
Local jewelry designer, Renee Howard of Remarkably Renee, creates unique punk-retro fashion jewelry line to support and benefit YES, and raises awareness for those diagnosed with terminal cancer.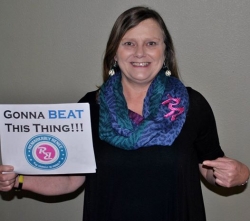 Shreveport, LA, January 02, 2015 --(
PR.com
)-- Gonna BEAT This Thing, a "YES" beatlivertumors.org awareness campaign, is designed to help increase attention in support related information about advanced cancer. There is constant discussion about prevention or early detection of cancer, yet little conversation surrounding the disease once it has spread from the original site, thus considered advanced or terminal cancer. "Gonna BEAT This Thing" aims to change the negative stigma of dying with cancer to living with cancer.
Remarkably Renee, as the newest sponsor for "Yes" is helping launch the campaign "Gonna BEAT This Thing," designing something special as a line of remarkably punk, "Hope" jewelry. Remarkably Renee, a new line of unique jewelry design, allows you to show your individual fashion style. Renee's jewelry design is considered a form of modern Art Deco, with "Art Deco" being the true definition of the word "eclecticism." Each unique design is created drawing inspiration from a wide variety of sources, having its own unique style, that is difficult to define.
Renee became involved with "Yes," shortly after a brief encounter with "Say Yes to Hope" survivors at The El'ermitage Hotel in Beverly Hills, Jan. 2013, during a Golden Globe event. "Yes," was ensuring everyone knows there is hope! It was life changing. Renee knew then, she had to do something to help, so she said,"Yes to Hope!"
A year later, in an effort to help families represented by each survivor, Remarkably Renee designed this signature line of jewelry, called "Hope." In the form of a steam punk-retro fashion, it allows the personality of the each individual a large selection of charms, so your Jewelry can be fun, while sending subtle messages to others showing a little of who you are. Each fashion jewelry design encourages you to "Be yourself. Be Unique!"
10% of sales from this line will be donated to "Yes." Remarkably Renee further challenges anyone who purchases their Hope jewelry, to match contributions with Renee's 10%. Who will be the first?
Also helping kick start this campaign is Clay Thrash, a rising country singer/songwriter, becoming involved with "Yes" through writing a song for Co-Founder, Suzanne Lindley, entitled "Gonna BEAT This Thing." Clay took those "four words," learned of survivor experiences through Life, then with his own personal family journey with cancer penned a song that warms the hearts, brings tears, and inspires all.
"Gonna BEAT This Thing," campaign will bring a concentrated focus related to the importance in awareness and support of those trying to live with advanced cancer. This campaign shares powerful voices of survivors providing light in the darkness of cancer. Their stories offer inspiration, support, and hope. Information given provides resources, direction, and self-empowerment.
No cancer is easy. There is not a cure, yet. "So, when cancer spreads, the patient is thrust into the fight of their lives, carrying along those they love most." "Many patients are not provided with a care plan, where they could receive and learn of valuable resources, information and support necessary to make appropriate informed decisions," says co-founder, Suzanne Lindley. Patients and their families often are isolated and alone without adequate support to help prepare them for the steep steps ahead. As treatment options for advanced cancer expand, quality of life improves. The overall survival rate increases. Access to information and support is imperative.
Losing 1500 lives every day to a disease that has long been a national priority is unacceptable. With your help, there is Hope.
This campaign will help with major progress toward the fight against advanced cancer through increased access to care, greater availability of resources, and improved support and together, we are "Gonna BEAT This Thing!"
Contact
YES! Beat Liver Tumors
Suzanne Lindley
877-937-7478
www.beatlivertumors.org

Contact