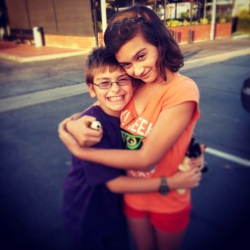 Irvine, CA, January 02, 2015 --(
PR.com
)-- Grace Edwards, 12 year old Founder of Talent for Epilepsy Presents Talent for Epilepsy's Second Annual Talent & Fashion Show.
Grace Edwards, 12 year old Founder of Talent for Epilepsy, will host Talent for Epilepsy's Second Annual Talent & Fashion Show, taking place at Courtyard Irvine Spectrum, 7955 Irvine Center Dr, Irvine, CA 92618 on Saturday, January 10, 2015, and featuring Performances from Miss America Title Holders; Teen Rock Band 5 Minutes Late winners of Battle of the Bands in La Palma, Cypress and Fullerton; 11 year old Comedienne, Leroya Sanford The Crowned Princess of Comedy as seen on ABC's morning show The View; 14 year old contortionist Kayla Kalisz; And the Hula Dollz, a Polynesian entertainment group from La Mirada CA.
Fashion show sponsors include, My Best Friends Closet, Along Came a Spider, Lululemon, Ivivva Stephanie Alvarez, and Trixxi.
Join them at 6:00 p.m. on January 10, 2015 for their Red Carpet Event with Special guest appearances from Elsa, Anna and friends Grace Edwards, 12 year old Founder is the host and MC for this years show.
Tickets are $25 presale and $35 at the door and can be purchased at TalentforEpilepsy.com. Tickets include a fun interactive show with fun games and prizes, a swag bag full of goodies from their sponsors, a silent auction and special guest speakers from Epilepsy awareness organizations throughout the country. Learn about Epilepsy in a fun and interactive way at Talent for Epilepsy's Second Annual Talent & Fashion Show.
"It's even more special that it was all started by a young girl who realized that most people didn't understand a disorder that affects her cousin." - Karen Stagliano, Director of California Miss Amazing
"When we heard that Grace had created Talent for Epilepsy, we weren't surprised as this is just the kind of wonderful project that she would take on. Grace is an amazing girl and Talent for Epilepsy is an amazing charity and event, bringing notice and awareness to an often misunderstood disorder. This will be the second year that Isabelle will be proudly modeling in the show. She wishes every girl, particularly ones with special needs, had a friend like Grace." - Sheila Fernandez, mother of model, Isabel Fernandez
Grace Edwards, 12 year old founder created Talent for Epilepsy in 2009, wanting to increase awareness for her cousin, Logan who was diagnosed at the age of 1. Logan takes medicine and has a pacemaker that was surgically implanted in his chest which regulate his blank stare and grand mal seizures. Some families are homeless and can't afford to pay for their child's epilepsy medicine. Epilepsy is a life threatening disorder of the brain and can lead to death. Grace decided that she wanted to do something to help raise awareness for Epilepsy. Grace created Talent for Epilepsy and with help from family, friends and the community the first Talent for Epilepsy Talent & Fashion show was held in 2013 with a huge success, raising over $5000. This year we've made it our goal to raise $20,000 with our second annual Talent and Fashion show on January 10, 2015 at 7:00 p.m. at the Courtyard Irvine Spectrum. Talent for Epilepsy is a registered 501c3 non-profit. We create family friendly events which advocate Epilepsy awareness in a fun and interactive way. Proceeds are donated to those who struggle with the expenses related to epilepsy.
A special Thank you to our Platinum Sponsors: Verne's Plumbing, Courtyard Marriott Irvine Spectrum Day Construction Company, Orange County's Credit Union, Ring Magic, Kick it Up Dance and Fitness Studio.
Grace Edwards
TalentforEpilepsy.com
714-720-7127
michelle@talentforepilepsy.com