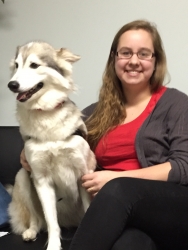 Indianapolis, IN, January 09, 2015 --(
PR.com
)-- The idea of leaving home to go to college is both exciting and scary for Amy, an 18 years old high school senior, living in Pekin, Illinois. At an age when kids leave the safety and comfort of their parent's home, Amy has to concern herself with an added burden. As a Type 1 diabetic, she has to worry about not waking up in the morning and staying alive. If her glucose levels drop too low, she may not realize it before it's too late. Up until now, her mom has been devotedly checking on her during the night, monitoring her potential drops in her glucose levels. Diabetes requires constant monitoring in order to limit any potential complications that can affect the heart, the eyes, the kidneys and other parts of the body. When patients have become desensitized to the symptoms of hypoglycemia they may not be able to feel that they need to intervene before neurological symptoms occur, such as confusion, behavior change, stupor, and unconsciousness. When engaged in certain activities or when asleep, their focus or ability to check their glucose levels goes now, leaving them more at risk for problems.
Although diabetes is part of her daily concerns, like any teen her age, Amy has dreams and desires for an independent life as she transitions into adulthood. She wants to go to college and study Psychology next year. When looking for options, she came across information about service dogs alerting people to their change in glucose levels. Diabetes alert dogs (also called DADs) have gradually become more popular over the past few years. Dogs have the ability to smell the sudden drop or rise in glucose levels and signal to their person that it's time to test. A DAD doesn't replace other monitoring devices, but can provide another layer of security, a friendly and attentive presence on the watch for any potential problems. In case of emergency the dog can also get help, glucose tablets or a cell phone. So Amy contacted several service dog organizations and finally called Medical Mutts, an Indianapolis based organization.
DADs can be expensive however due to the time it takes to train them. But that didn't discourage Amy. Determined to get the help she needed, she rolled up her sleeves and at 17 years old at the time, she started fundraising for her dog. She needed $10,000. With a website, her Facebook page and a few fundraising events at school and in the community, after a few months, Amy had raised over $11,000! She was finally going to get her new helping companion.
Picked up on the streets of Indianapolis, extremely skinny, with 3 broken teeth, Juniper, a one year old female husky mix, certainly didn't match the description of a typical service dog. But her social and loving personality quickly captured the hearts of the Indianapolis Humane Society staff. Eager to find a good home for this young dog, they contacted Medical Mutts, a service dog organization specialized in training rescue dogs as service dogs to help with conditions such as diabetes, seizures, PTSD and more. After a successful health and temperament evaluation, Juniper was off to a new journey. She was going to become a service dog and never be mistreated again.
Matching a service dog with a person is a lot like matchmaking. The personalities, the size of the dog, the energy levels, all have to fit. After a few months of training, Juniper appeared to be the best fit for Amy. They were finally united after Amy underwent several days of intensive training to learn how to work with her new friend.
Amy and Juniper have been together for a few months now. Every day, Juniper goes to school with Amy. It doesn't matter if Amy is concentrating for a test or in full show choir rehearsal. She lies down under her desk during her classes and with a nudge of her nose, lets Amy know that her sugar levels are dropping. Amy and Juniper are now inseparable partners, relying on each other as they embark on this new chapter of both their young lives.
medicalmutts.com