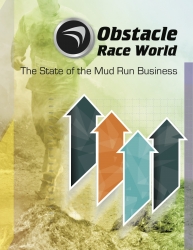 Boston, MA, January 21, 2015 --(
PR.com
)-- Obstacle Race World is pleased to announce the launch of
obstacleraceworld.com
. Participants, investors, media contacts, and other enthusiasts can visit obstacleraceworld.com for in-depth analyses and insights on the state of obstacle racing. The site also features publications, including "Obstacle Race World: The State of the Mud Run Business," the first-ever white paper on the sport.
According to Obstacle Race World, 4.2 million participated in an obstacle course race in 2014 as revenue from registrations exceeded US$360 million. The number of participants is expected to reach as many as 5 million in 2015. Roughly two-thirds of the industry's market share is claimed by the top organizers.
"Blending fun, activity, and teamwork, obstacle racing has grown significantly over the past five years," noted Melissa Rodriguez, developer of Obstacle Race World. "Everyone from casual participants to potential investors have taken notice. With this rapid growth comes a need to provide data and insights on the state and outlook of the sport. Obstacle Race World is dedicated to tracking the sport and providing transparency on its prospects for growth."
Obstacle Race World's website was developed to provide everything from basic knowledge to industry data on the OCR and mud run marketplace. The site is mobile responsive and can be viewed on a variety of devices. The site can be accessed at obstacleraceworld.com.
About Obstacle Race World
Obstacle Race World is the first and only source devoted to tracking and analyzing the sport of obstacle racing. In May 2014, ORW published the first-ever industry report on the sport, entitled, "Obstacle Race World: The State of the Mud Run Business." This report was covered by more than 250 media outlets. In December, the report was updated to reflect the important OCR developments in 2014.