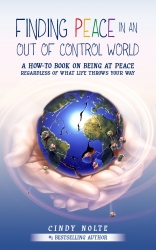 Augusta, NJ, January 15, 2015 --(
PR.com
)-- Finally achieve the inner peace for which you've always searched with Cindy Nolte's inspirational new book, "Finding Peace in an Out of Control World."
Bestselling Author, TV Personality, Holistic Practitioner Cindy Nolte, launched "Finding Peace in an Out of Control World," today as it soared to the #3 Spot on the Amazon.com Hot New Releases List and #28 on the Amazon.com Best Sellers List for Stress Management.
Nolte, a former corporate trainer and manager as well as an avid long distance runner, has been working toward publication for seven years while hosting Fresh Look on Life TV and running a private practice as a Holistic Practitioner. In addition, she is the founder of Support Your Own, a charity founded to encourage others to use their skills to help others in their community.
Nolte stated, "It was my intention to write a book that both men and women could relate to when looking for direction on finding inner peace. 'Finding Peace in an Out of Control World' provides real tools that can be applied to your life immediately to obtain inner peace." To support the readers in their journey for inner peace, Nolte created an online Members Only section where readers can form book clubs, share their accomplishments and share their experiences as a result of reading the book with others in a secure environment.
Encouraging a balanced lifestyle that brings peace to the mind, body, and spirit, this easy-to-read volume guides you through the journey of becoming reacquainted—with yourself.
Nolte is available for interviews and appearances. For booking presentations, media appearances, interviews, and/or book signings contact:
Cindy Nolte, 973-383-6847
cindy@freshlookonlife.com
www.freshlookonlife.com
www.maxsamantha.com