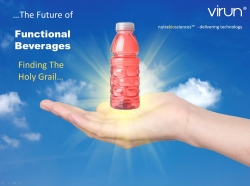 Walnut, CA, January 20, 2015 --(
PR.com
)-- VIRUN NutraBIOsciences is known for developing cutting edge products for their customers, clients and partners, and supporting their success from development to exclusivity to distribution. From new MCT and EPA DHA fortified waters to Dr. Jekyll's Organic Craft Brews, VIRUN is hot-to-trot, showing-off their abilities by securing industry's demand for innovation. Join VIRUN co-founder and CEO Philip Bromley as he demonstrates what is innovative in 2015.
It's Not Just Innovation but the Fertilization of Ideas to Foster Innovation and Help it Grow...
It's a bright sunny day in Walnut, California. A meeting has been called with a new client. They want a cognitive stick-pack powder that dissolves easily, tastes great, and is clean label and GRAS. The doorbell rings and the visiting company's business development team is greeted by a VIRUN scientist. They proceed upstairs and are joined with VIRUN's full team of white-coats. They sit down in the VIRUN board room to wait for Mr. Bromley, VIRUN's CEO and Head Scientist, while an interactive VIRUN movie plays on the walls of the room. In walks the VIRUN CEO, complete with bow-tie, purple top hat and penguin tailed tux. The laughter is immediate, and everyone feels at ease as the meeting ensues. The client (let's call him Mr. Wants-the-Impossible) says, "We Want the Holy-Grail of cognitive stick packs, better than anything on the market today; rich in Omega-3, Astaxanthin, PQQ, CoQ10, Citicoline, Glutathione, Curcumin, Phosphatidylserine, and Resveratrol. We have to have the highest mg to meet the most aggressive claims, the product has to taste great, be instantized and dissolve rapidly. Can you make this happen?" As everyone sips from their lettuce bowl-sized coffee mugs, VIRUN's research and development team considers, and then responds. The meeting concludes, and a short time later, much like a fast food drive-thru (well okay, a few weeks later, but you get the point), out of the window comes a perfect formula that meets Mr. Wants-the-Impossible's criteria. Soon after, CognitiveSuperStuff (trademark pending) powder stick pack becomes the number one sold stick pack powder in the natural foods channels. VIRUN has the skills to fertilize your innovative ideas and make them grow.
Beverage Innovation 2015, What to Expect
To begin, VIRUN will discuss current issues such as clean label claim, natural sweeteners (yes, you can use stevia and make it taste great), preservative free products (the key lies in finding the right co-packer, process and science), and no artificial colors (don't be fooled by red cabbage, paprika etc... in beverages and their long term stability). In addition, VIRUN will discuss functional ingredients (you can't have a functional beverage without functional ingredients, right? Oh, sure, B vitamins are functional; air and water are functional too). VIRUN will discuss those difficult-to-work-with-but-worth-it functional ingredients that harbor huge efficacy and health claims and ultimately beat-out other ingredients. This leads us to application development, VIRUN's third topic of conversation. Join VIRUN and Mr. Bromley to see how your new product (or existing brand) can be differentiated from others. Where VIRUN used to say, "Increase competition on the shelf," VIRUN's motto for 2015 is, "Decrease competition on the shelf" because your brand will be the only one of its kind. One recent example of this differentiation is VIRUN's exclusive processing and supply of Dr. Jekyll's Craft Organic Beer, containing VIRUN's water soluble concentrates of natural ingredients for the natural products markets.
Join other elite speakers, leaders and businesses at Beverage Innovation 2015 and secure yourself the golden ticket to success. Visit http:www.Virun.com/events and scroll down to Webinars/Forums. Click on the Beverage Innovation 2015 link to register.
Innovative Solutions - Brought to you by VIRUN Scientists and their favorite interns from Cal Poly Pomona, CA. and beyond.
The innovation presented at the upcoming online event would not be made possible if not for VIRUN's hard-working scientists, their interns and the great resource available to them from California State Polytechnic University Pomona. VIRUN has created a great team of scientists driven by innovation and next generation thinking. VIRUN brings new ideas and believes it is experience combined with inexperience that truly delivers successful solutions. VIRUN, 2015 and beyond.
About VIRUN:
We are a Nutra-BioSciences™ company formed in 2003 and headquartered in Walnut, CA. We emphasize the safe and efficient delivery of pharmaceuticals and nutrients to the human body through use of our patented and patents-pending technologies. VIRUN's pharmaceutical and dietary supplement technologies allow improved bioavailability through nanotechnology and Transferrin conjugation that target specific cells within the body. Additionally, VIRUN's Esolv™ and DPtechnology™ allow water-insoluble nutrients to be clear, water-soluble and stable in food, beverage and supplement applications. VIRUN's innovative solutions and brands include Omega-3 EPA DHA branded as OmegaH2O®, Resveratrol, CoQ10 branded as CoenzymeClear™, Astaxanthin branded as AstaxH2O™, PQQ branded as PQQwater™, Lutein, Phytosterols and Curcumin. Virun is a fully integrated research and production facility with manufacturing in California and finished product processing in California and Florida.
About Beverage Innovation 2015:
Beverage Innovation 2015 is a unique, free-to-attend summit. Food Navigator-USA and BeverageDaily bring together market researchers, innovation experts, social media gurus and the founders of some of the most successful beverage brands in the business from Mamma Chia to KeVita to talk about what's hot, what's not, what's next, and what keeps them awake at night. Sponsored by VIRUN NutraBioSciences and other internationally-recognized industry leaders.