After 5 Years of Saving Teen Lives, It's Time to Celebrate
After 5 years of working to prevent teen suicides, the Save a Life Foundation celebrates with an Anniversary Gala and a new website!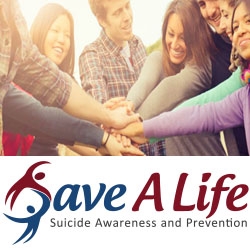 Cary, NC, January 27, 2015 --(
PR.com
)-- A visit to the Save a Life Foundation's new website speaks volumes about the work the organization has undertaken during the past five years, says co-founder Victoria Bennis. The new site, http://www.helpingsavealife.com, targets youth and teens who feel alone as well as those who want to make a difference. Huge, impactful images provide an inspiring backdrop for information on how to get help, ways to get involved and resources teens can use.
The site also offers a billboard for events such as the upcoming 5-Year Anniversary Gala, which is a first for the Foundation. "The purpose is to celebrate five years of Save A Life's achievements, and our success in preventing and raising awareness about teen suicide," says Bennis. "Not only do we want to thank our supporters but also to raise awareness in the community."
The Gala will include a silent auction, and the funds raised will enable the foundation to continue its efforts to prevent teen suicides through educating the community, removing barriers that separate at risk teens from help, and providing resources for those in need, she says.
Items available for bidding on the silent auction include:
- Dinner at the Chef's Table at Angus Barn
- Dinner for 10 at any Empire Eats Restaurants in Raleigh
- A one-night stay at the Fearrington Village
- Art work by local several local designers
- Signed Carolina Panthers Memorabilia
The Gala follows the annual Save a Life 5K run, which was an event for remembrance and hope. Bennis trusts that the community will show the same support for the Gala as it does for the Foundation's other activities.
"Save A Life would not be where it is today without the overwhelming support and continued inspiration from our community," says Bennis. "Please join us for a lovely charitable evening as we thank you for enabling us to do what we do. Thank you for helping save a life!"
Tickets for the 5-Year Anniversary Gala and Silent Auction may be purchased online at https://www.eventbrite.com/e/the-save-a-life-foundations-five-year-anniversary-gala-tickets-15122740524.
About Save a Life Foundation
Save A Life, Inc. was formed to raise awareness about the reality of suicide among teens and young adults. The Foundation's primary goal is to educate the community and remove barriers that separate at-risk persons from help. This is achieved by educating the community on the signs to watch out for, and by developing the awareness among friends and family members about the prevalence of teen suicides. The Foundation also provides information and resources for community members to use if they believe someone is thinking about suicide.
Contact
Save A Life
Victoria Bennis
(919) 819-2531
http://www.helpingsavealife.com/
Maryanne Monaco
(919) 271-1807
maryannemonaco@gmail.com

Contact