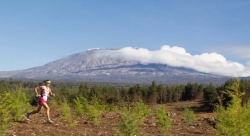 Mbahe, Tanzania, February 11, 2015 --(
PR.com
)-- Summit Expeditions and Nomadic Experience has opened registration for the fourth annual Kilimanjaro Stage Run (KSR), a non-competitive group run of 260 kilometers (162 miles) around Africa's highest peak. The fully supported 11-day package offers endurance runners a unique opportunity to run the rugged, challenging dirt paths and footpaths that have been used by locals for hundreds of years, yet tourists rarely see.
The KSR was conceived by Simon Mtuy, Tanzania's foremost trail runner, expert mountain guide and world-record holder for the fastest ascent and descent of Mount Kilimanjaro.
"Kilimanjaro is heavily traveled by hikers, so my intent with this event is take runners away from the crowds and immerse them in Tanzanian environments and culture that most visitors never experience," says Mtuy. "When runners first arrive, they spend a day acclimatizing in my family's farm, where we grow organic coffee, honey, fruits and vegetables."
The run itself takes eight days, passing through monkey-inhabited forests, savanna where elephant, zebra and giraffe roam and family-run coffee farms. Runners pass through lush rain forests, past waterfalls and enjoy breathtaking views of Mount Kilimanjaro at every turn.
In this non-competitive adventure, runners are encouraged to pause to engage with local Tanzanians they meet on the trail and socialize with their fellow runners.
Come evening, runners relax in full-service camps and refuel in remote villages under the mountain's looming shadow, enjoying catered meals featuring freshly harvested ingredients. "After a long day of running in a completely foreign environment and countless memorable interactions with locals, we finished with at least 150 kids filing in behind us. It was a complete emotional rush and high to finish this way," says Krissy Moehl, professional ultrarunner who ran the 2012 KSR.
The 11-day KSR package costs $2,125 U.S. and includes accommodation, meals, running guides, support vehicles, a post-run celebration and more (or $1999 if you register before March 31, 2015). Experienced runners can apply at www.tanzaniatrailrunning.com
About Summit Expeditions and Nomadic Experience
The Kilimanjaro Stage Run is an annual event sponsored by Summit Expeditions and Nomadic Experience, which offers unique running adventures and guided expeditions on Mount Kilimanjaro. The Kilimanjaro Stage Run was featured in the 2013 documentary, Mountain of Greatness. Get updates about the Kilimanjaro Stage Run at Facebook/StageRunAroundtheRoofofAfrica and on Twitter at Twitter.com/KStagerun.