Mississippi Gulf Coast Businesses Band Together Towards One Goal, Curing Childhood Cancer
The 2015 St. Jude Dream Home in Elliott Homes' exclusive Malpass West community in Biloxi, MS is coming to a close. The gorgeous 3,500 square foot home includes four bedrooms, three and a half baths and a huge bonus room. Luxury features includes a gas fireplace, outdoor kitchen, covered porches, butler's pantry, wet bar, gourmet kitchen, full-tiled walk-in shower, separate Jacuzzi tub and much more. The home will be given to one lucky winner on April 12th.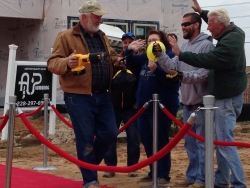 Biloxi, MS, February 16, 2015 --(
PR.com
)-- The St. Jude Dream Home Giveaway was started by Donald Mack in 1991 to raise $50,000 for the St. Jude Children's Research Hospital. To date builders across the country donate 34 Dream Homes a year to raise almost $25 million annually.
The 2015 Dream Home in Malpass West, Biloxi will have more than $350,000 in donations from material vendors, volunteers and subcontractors. All donations were made to reach the final goal – to build the home as close to free as possible so that all revenue from ticket sales goes directly to St. Jude to save children and find a cure for childhood cancer.
"The true heroes aren't just the ones who give the most or who donate from afar. Smaller businesses and individuals who donate their time and services also play a key role in reaching our goals," says Brandon Elliott, President of Elliott Homes LLC. He adds, "The passion from men and women along the coast to build this remarkable project at almost no cost is something that will stay with me for a lifetime. It has truly changed me to see how people and businesses came together to help each other when they are driven." Larry Ladner of Ladner Electric has a small one-man crew. They worked nights, weekends and their off days to wire the 3,600 square foot home in four weeks. Larry also arranged to have the materials donated by All-Phase Electric to ensure the costs did not get passed on to St. Jude. Brandon states, "This donation totaled almost $8,000. For large corporations this is a needed tax write off however, for a small locally owned business, this is a life changing event and we are very proud of him."
Other examples of smaller local businesses making a huge impact is Hiers Construction, ASAP Plumbing, Miguel Hernandez and Foam Man insulation. Each have generously donated between $9,000 and $30,000 worth of time and materials. "These companies and many others can honestly say they didn't do it for the recognition," Brandon states, "if we didn't write this they wouldn't have gotten any! They did it purely to be part of something great. They did it to help sick kids and they did it from their hearts."
There are larger companies who also play a huge role in the success of the campaign with donations in the tens of thousands of dollars. One of those businesses is locally owned Ocean Springs Lumber who have donated to two of Elliott Homes' Dream Home projects. "As we started the 2012 home the only possibility in my mind was that the home was going to be fully donated to the charity. Telling businesses like Ocean Springs lumber that donating fully was the only agreeable solution was a mistake made by myself as young business owner," Brandon explains. "After accepting my request and committing $35,000 in materials to the home I thought we were doing great. When we got the monster house designed by Jeff Elder, owner of RJ Elder Design LLC, the bills went up to $50,000. Charlie Glen, General Manager, contributed the additional expense with no questions asked. The final lumber cost was $86,000 and Charlie came through for us by collecting the additional funds in donations from his vendors and suppliers. He worked really hard to get that home built for those kids. Even after all of that Charlie signed on to donate materials again for this year's home. We're honored to work with him again on such a great project."
There are many other businesses along the Coast who have banded together to build the 2015 Dream Home. These businesses who have donated so selflessly to the cause are a great example of who the true heroes are that have helped raise over $300 million with the Dream Home Campaign in the past 23 years.
The 2015 St. Jude Dream Home will be raffled off on April 12, 2015 to one lucky winner. Brandon reflects, "I wish everyone could experience what my staff and I have during this time to see how the Coast joined together. It makes you realize what you have, what a truly great coast we live in and the quality of our neighbors. There are plenty of other subcontractors, vendors, donors and volunteers who have donated to this project. They all deserve a pat on the back on behalf of the millions of children who are still alive because of St. Jude. You're all heroes. God bless you and may this year's dream home campaign sell the 6,800 tickets for the home that these companies worked so hard to build." Tickets are on sale now at www.stjude.org.
About Elliott Homes
Established in 2009, Elliott Homes LLC is a custom home builder serving the Mississippi Gulf Coast. In addition to receiving many awards, Elliott Homes has also been awarded the 2013 Talk of the Town Customer Satisfaction Award, 2012 Builder of the Year Award by the Home Builders Association of Mississippi as well as the Home Builders Association of the Mississippi Coast.
For more information about Elliott Homes, call 1-844-BUY-ELLIOTT or go to
www.myelliotthome.com
.
Contact
Elliott Homes LLC
Susan Siemiontkowski
1-844-BUY-ELLIOTT
www.myelliotthome.com

Contact