American College of Urgent Care Physicians Offers Free Membership, Seeks Better Health Care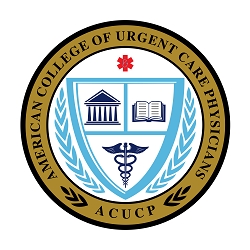 Hartland, MI, February 19, 2015 --(
PR.com
)-- Medical organization offers free membership to urgent care doctors to unify providers,establish best-care guidelines, promote leadership and influence health care policymakers.
The American College of Urgent Care Physicians
(ACUCP) invites all urgent care doctors in good standing to join its ranks to enhance medical education within the field, promote leadership, and advocate at state and federal levels for all urgent care providers and the patients they seek to treat.
"Urgent care physicians in the United States furnish much needed stability in our strife-ridden health care system," says Dr. Nasir Ali, president of the Michigan-based ACUCP group. "Urgent care doctors provide a haven for a population desperate for accessible and affordable medical attention. By uniting our voices, members will be able to cultivate a wider scope of care at walk-in medical facilities around the country. Through advocacy, we can secure our specialty's pivotal role in the health care infrastructure."
By enrolling now, potential members will get a two-year waiver on affiliation fees. They also become eligible for the organization's newsletter full of information about best-care practices, medical research, health care legislation, vocational honors, and continuing medical education (CME) opportunities. To "
become a member
" in ACUCP, follow the link, complete the online form and submit. Be sure to indicate whether an emailed newsletter would be welcomed.
In addition, ACUCP members may participate in the
I Care Forum
. This members-only question-and-answer forum will enable members to discuss health, well being and urgent care medicine. Register today to get involved.
Leadership Positions Open:
ACUCP members wishing to take an active role in the development of this consortium will have the opportunity to:
· Spearhead the drafting of national clinical guidelines
· Honor colleagues who exemplify excellence in urgent care
· Recruit non-member physicians
After developing clinical protocols for the most common conditions treated by urgent care physicians, the ACUCP Clinical Guidelines Committee will post its recommendations to the ACUCP website. "With online access to clinical standards, doctors will be able to use this valuable tool anytime, anywhere," says Dr. Ali. "Excellence is the goal. We think standardized protocols will optimize the quality of care that urgent care physicians deliver across the nation."
ACUCP's Awards Committee also seeks to raise the vocational bar through recognition of members who display significant professional achievement, while serving their patients and medical profession. ACUCP will honor members by designating a "Physician of the Month" and a "Physician of the Year."
A Membership Recruitment Committee will work to encourage non-member urgent care physicians to apply to ACUCP and will vet applicants for acceptance. To serve on any of these leadership teams, contact the ACUCP at acucp@acucponline.org.
"We must be forward thinkers, ensuring the vitality of our profession," says Dr. Ali. "If my colleagues will become ACUCP members – and I strongly urge that they do – we can drive positive change. We must work tirelessly to heal our struggling health care system for the sake of our patients, their kids and the grandchildren to come."
About The American College of Urgent Care Physicians:
The
American College of Urgent Care Physicians
is a nonprofit, scientific and scholarly consortium, which represents urgent care providers all across the United States of America. It seeks to enhance medical education, improve patient care, promote leadership, and advocate for urgent care physicians at the state and federal levels.
Media Contact:
Dr. Nasir Ali
810-394-1300
acucp@acucponline.org
American College of Urgent Care Physicians Inc
11554 Highland Road
Hartland, MI 48353
www.acucponline.org
Contact
American College Of Urgent Care Physicians Inc
Nasir Ali MD
810-394-1300
www.acucponline.org

Contact