DOCUTAH Film Festival Tees Up Oscar Nominee; International Documentary Film Festival Garners Worldwide Submissions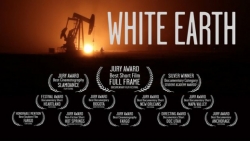 Saint George, UT, February 19, 2015 --(
PR.com
)-- As the excitement grows around Oscar night, the small city of Saint George, Utah has a reason to pay very close attention. The
DOCUTAH
International Documentary Film Festival, which garners entries from all over the world, has one of its winners nominated for an Academy Award in the category of Best (short) Documentary. The film,
White Earth
, directed by J. Christian Jensen, won the 2014 DOCUTAH Raven Award for Best Director.
The filmmaker states, "Set against the backdrop of a cruel North Dakota winter, White Earth is a tale of an oil boom that has drawn thousands to America's Northern Plains in search of work. Told from the perspective of three children and an immigrant mother whose lives are touched by the oil boom, each story intertwines with the others – exploring themes of innocence, home, and the American Dream."
"Christian's vision uses uniquely beautiful cinematography to place his characters in an eerie landscape created by the flaming oil rigs across a dark or foggy prairie," said Phil Tuckett, Executive Director of DOCUTAH. "DOCUTAH is proud to be part of the Christian Jensen and White Earth success story.
Dixie State University
and DOCUTAH work to create a world-class festival that celebrates the documentary form by producing and showcasing films to enlighten, inform and entertain. With White Earth, Christian has done that at the highest level."
The 2015 DOCUTAH International Documentary Film Festival is held at Dixie State University in Saint George, Utah. The 2015 Festival runs from September 8-12 and is currently accepting submissions. To date, DOCUTAH has received 102 submissions from 26 countries.
About DOCUTAH
DOCUTAH's mission is to inspire a global connection through independent documentary films and intellectual discussions. DOCUTAH strives to enhance the education of independent filmmakers, aspiring film students, citizens of the world and the Southern Utah Community. DOCUTAH is one of the few university-sponsored film festivals in the United States. It is an International pure documentary film festival. As part of Dixie State's academic component, DOCUTAH also offers master class seminars and filmmaker panels where student, amateur and professional filmmakers can discuss and advance their skills in the art of filmmaking.
Contact
Docutah
Della Lowe
650-868-5829
docutah.com

Contact