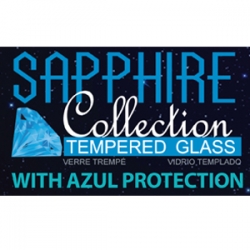 Los Angeles, CA, February 20, 2015 --(
PR.com
)-- On February 22, Hollywood's elite will walk the final red carpet of the season: the 87th Academy Awards, also known as the Oscars. In the midst of the awards and celebrations, many phones and mobile devices will be subjected to a wide variety of opportunities for cracked screens and broken LCDs. Fortunately for many celebrities, a preventative solution will be made available to VIPs who attend the Secret Room Events 2015 Beauty Bar & Luxury Lounge honoring the 87th Academy Award nominees.
Two variations of iGear premium tempered glass will be made available at the event, including the Sapphire Collection, and the Sapphire Collection with Azul Protection. The latter is a premium tempered glass that uses a special technology to block the invisible harmful blue light not blocked by traditional UV protection.
"We're extremely honored to be able to showcase our premium tempered glass screen protectors by iGear in order to build product and brand awareness of our Sapphire Collection. It's also a great opportunity to warn people of the inherent dangers of starring into a screen of harmful blue light on a daily basis that doesn't have the Azul Protection technology that we offer," said Jamie Smilovici, director at iGearGlass.com. "Likewise, our Sapphire Collection of Premium Tempered Glass Screen Protectors are said to be the best in the industry, with brute force trials that are unlike anything else on the market. This provides an incredible level of protection for devices that are not only expensive, but essential to the daily lives and careers of so many."
The Sapphire Collection and the Sapphire Collection with Azul Protection are available for all popular Apple, Samsung, HTC, LG and Sony mobile phone devices. For more information about iGear, please visit:
www.iGearGlass.com
About iGear
iGear is a leading manufacturer of shatterproof anti-impact 0.33mm thick premium tempered glass screen protectors. iGear is available through over 50 distributors throughout North America, Central America and the Caribbean. For information about becoming an authorized dealer in your area, please visit:
www.iGearGlass.com
QWirelessSolutions
Los Angeles is the Premier Distribution partner for North American Markets.