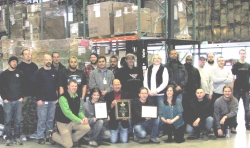 Denver, CO, February 24, 2015 --(
PR.com
)-- LifeSpan, a leading provider of IT Asset Disposal (ITAD) services, announced that its Denver, Colorado plant has been recognized by OSHA (the US Occupational Safety and Health Administration) with the SHARP award. Last December, LifeSpan's Tampa, FL facility received the same award. The Safety and Health Achievement Recognition Program award is given to small and medium-sized employers who run excellent health and safety operations.
OSHA Safety Consultant Casey Barnes, and OSHA Health Consultant Layne Sargent were on hand to present LifeSpan's Denver team with the award. OSHA presented the team with a Company plaque and an Employee Recognition plaque. The SHARP website will be publishing a photo of the achievement: https://www.osha.gov/dcsp/smallbusiness/successes.html
"The group of companies who receive the SHARP award are few and elite," said Barnes. Approximately 300 companies apply and are audited for the award each year in Colorado, but only about 40 have received the honor. In addition to LifeSpan being a part of this select group in Colorado, it is also one of approximately 50 small-to-mid-sized companies in Florida to have been recognized with the SHARP award.
"All corporate safety managers want this award, but without employee commitment, it just isn't achievable," said Sargent as she presented the Employee Recognition plaque.
To receive the award, OSHA requires companies to pass several key components: complete a health and safety visit by a regional OSHA consultant, satisfactorily complete checklists of specific safety and health measures, and identify hazards to an onsite OSHA consultant. SHARP recipients must also create and uphold a safety and health management system. OSHA also factors in the Days Away, Restricted Time (DART) Rate and Total Recordable Case rate (TRC), all of which must fall below the US average for the industry of the company.
LifeSpan adheres to its industry certification standards, like e-Stewards and ISO14001, and OSHA credits the company with surpassing those requirements. Health and safety standards have long been a priority for LifeSpan. Today, LifeSpan continues to encourage its employees at all locations to attend safety meetings and voice matters of concern in order to keep incidences at a minimum, and to maintain the highest possible level of employee health and safety.
"All LifeSpan facilities have gone without an accident since June 2013," said Matt Hansen, LifeSpan Director of Operations. "This speaks to the workplace culture and you working safely. I'm proud of everyone here," said Hansen to his team of employees.
"It's great for our employees to get this recognition from OSHA for their commitment to a safe workplace," said Dag Adamson, President of LifeSpan. "This award also highlights that we provide a great place to work."