Benefit Concert for Fallen Tarpon Springs Police Officer Charlie Kondek
The Bellamy Brothers and Bertie Higgins are performing a benefit concert for the family of Charlie Kondek who lost his life in the line of duty.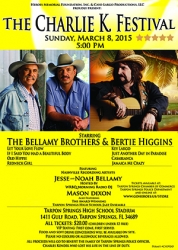 Tarpon Springs, FL, February 27, 2015 --(
PR.com
)-- The Charlie K Festival and Benefit: Live concert featuring gold and platinum recording artists to benefit the family of fallen police officer Charlie Kondek of the Tarpon Springs Police Department.
Tarpon Springs, Fla.
(Heroes Memorial Foundation, Inc. & Cayo Largo Productions LLC.)
Sunday, March 8, 2015 at 5:00 PM.
Tarpon Springs High School.
Tarpon Springs Florida native and international recording artist, Bertie Higgins along with the Heroes Memorial Foundation and the Bellamy Brothers also Florida natives, have organized a benefit for the family of slain Tarpon Springs Police officer Charlie Kondek. Kondek, 45, was fatally shot after he responded to a noise complaint on Dec 21, 2015. Kondek was a devoted husband, father of six and a 17-year member of the Tarpon Springs police department.
Performing at the benefit will be award winning movie actor/producer/director and performing artist, Bertie Higgins who had the Billboard #1 Platinum hit, Key Largo, Just Another Day In Paradise, Jamaica Me Crazy and International Multi-Platinum hit, Casablanca. Along with Higgins will be the Bellamy Brothers. David and Howard Bellamy who have had over a dozen chart topping #1 hits in their career. Songs like If I Said You Had a Beautiful Body, Redneck Girl, Let Your Love Flow and Old Hippie, continue to be historical country music anthems. Also appearing will be the hot new group, Jesse and Noah Bellamy. Jesse and Noah are the sons of David Bellamy; they are currently touring across the USA and promoting the release of their new album "Brethren." Opening the show will be the Michigan Misfits with Charlotte Higgins. A very special appearance will be made by the Tarpon Springs Jazz Ensemble. This group was awarded 2015 Berklee High School Jazz Festival Category L2 Champions, Competition Top Scorer for 2015. Also appearing at the benefit will be WRBQ's star Morning DJ Mason Dixon. Dixon will kick off the evening's events.
The benefit starts at 5:00 PM at the Tarpon Springs High School stadium. The seating is first come, first served. Tickets are $20 and can be purchased at www.goheroes.us/store, the Tarpon Springs Chamber of Commerce, 111 East Tarpon Ave. and Tarpon Springs Police Department. Address of the benefit is: Tarpon Springs High School Stadium, 1411 Gulf Road, Tarpon Springs, FL 34689.
Donations in US funds can be made by calling:
Heroes Memorial Foundation Inc.
Heroes Memorial Foundation is a 501 (c) 3 Tax Exempt Charity.
Call us at: 772-678-0597 or go to our web site www.HeroesMemorial.org
Media Contact:
phood@heroesmemorial.org
bertiehiggins@hotmail.com
Contact
Cayo Largo Productions, LLC
Bertie Higgins
727-403-1051
cayolargoproductions.com
818-558-6363

Contact