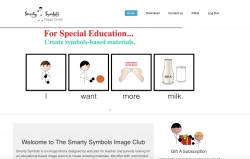 Dallas, TX, March 01, 2015 --(
PR.com
)-- The special needs community has been using visual support materials for a long time. Everyone understands the benefits of combining visual support with the information presented orally to children. Speech-language pathologists, teachers and parents have also used visuals as a form of alternative communication for children with communication difficulties.
In 2010, a set of visual support was born and released to the public in 2011 with over twelve thousand images. These visual support images have been used in a variety of products in the last five years from alternative communication applications to simple language learning materials.
In late 2014, Smarty Symbols, a Dallas-based company, released its website to the public which allows teachers, parents and therapists to access over thirteen thousand images, download them or create visual support materials directly on the portal.
The community has already shown their excitement about this new portal by subscribing in unexpected numbers.
Founded and managed by educators, Smarty Symbols is recognized by its high quality images, and excellent customer support.
Barbara Fernandes, co-founder of Smarty Symbols, has a track record for launching and delivering high quality products and by also managing one of the most successful application developing companies within the special needs community: Smarty Ears.
The Smarty Symbols portal can be accessed at http://www.smartysymbols.com and subscriptions start at just $45/ year for personal subscriptions.
The portal also offers a new concept for teachers who create materials for sale on the popular Teachers Pay Teachers site, by allowing teachers to subscribe for commercial licenses. Commercial subscriptions allows for downloading images and creating products that will be shared with others for sale. Commercial subscriptions start at just $29/month.
Smarty Symbols receives daily requests for creating images that are not yet on the image set, and those images are created and posted on the portal for download.
The portal also offers subscription packages for school districts and clinics that need to create visual materials for students.
For more information about the Smarty Symbols portal visit: www.smartysymbols.com