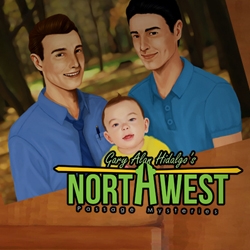 Seattle, WA, March 11, 2015 --(
PR.com
)-- With the release of "Cairo Café" this month, a new comic book series set in the same world as parent book series "Northwest Passage Mysteries," creator and writer Gary Alan Hidalgo has accomplished the first phase of his transmedia vision of a shared storytelling universe reflecting changes sweeping the nation as same sex marriage becomes the standard rather than the exception.
Since last June 2014, which is Gay Pride Month worldwide, readers of all kinds have gone on a ride along with partners in crime fighting and partners in life, Deputy Medical Examiner Dr. Dale Clark and Police Officer Lewis "Queenie" McQueen. Like many committed gay couples nowadays, they raise a son gifted them through surrogacy. While an official wedding seems to be in the stars, classic soap opera elements like tampering with paternity tests and baby switching get a fresh twist that threatens their happy start.
More ominous dangers also take their inspiration from current headlines as the series opens with the gruesome death of a student recently outed via a sex video gone viral on social media. As the object of bullying by his homophobic fraternity brothers, the student's plight parallels LGBT teen woes that often result in gay bashing, suicide, and murder. While the recent rash of anti-LGBT violence might not include being buried alive in concrete like in the book, the theme of change and those who resist it clashing is loud and clear in "Northwest" and "Cairo."
The latter is a lighter read in comic book form about an outed then ousted politician who picks up his life in the same small town. Its inspiration is '90s dramedy "Northern Exposure" but with a "gay out of water" twist while "Northwest" is comparable to a grown-up "Hardy Boys" solving murders in "Twin Peaks." The camp characters and quirky setting aside, there is true darkness in this universe rearing its ugliness when least expected. They are, after all, mysteries.
"We are currently polishing a script for 'Cairo Café' to submit for consideration on Amazon Studios," Gary Alan Hidalgo said. "Should it go into production as a half-hour comedy series, it will be a giant step in telling the 'Northwest Passage Mysteries' story transmedia."
"I am also working on the adventures of transgender FBI Special Agent, Mona Sean, introduced in the third part of the serial," Gary added. "My goal is to portray original LGBT characters in law enforcement roles iconic on TV and movies by day and in updated roles in their personal life true to today's non-fiction world as parents, spouses, and beyond. The multiple digital platforms, such as those offered by Amazon, has only made it easier to tell such a multifaceted story."
"Northwest Passage Mysteries," "Cairo Café," and other spinoffs are available on Amazon.com and other e-book stores. Details on availability are at
http://bitly.com/themysteryoflove
.
Contact: Gary Alan Hidalgo
Twitter: @garya1an
gary@garyalanmedia.com
http://www.garyalanmedia.com