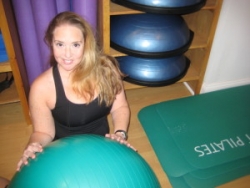 New York, NY, March 18, 2015 --(
PR.com
)-- Women's Health Activists to be Awarded at Upcoming Gala.
Women's Health Foundation's Annual Fundraising Gala to Be Held May 16th, at Chicago's City Winery.
Women's Health Foundation (WHF), a Chicago-based nonprofit dedicated to pelvic health and wellness has announced this year's recipients of the Passion Award and Medical Activist Award to New Jersey and New York physical therapist and endometriosis patient, Dr. Sallie Sarrel, PT, ATC, DPT and Michigan-based women's health practitioner Leslie Wooldridge, respectively. The women will be honored at WHF's signature fundraiser, "Below the Belt: Fighting for Women's Pelvic Health" event on Saturday, May 16 from 6-11pm at City Winery, 1200 W. Randolph, Chicago.
The Passion Award recognizes a patient who has helped women and girls struggling with pelvic health and works to change the field as a whole. The Medical Activist Award honors a healthcare professional who has broken down barriers or changed science in women's pelvic heath. Along with the award presentation, the event will feature a private performance by a nationally-recognized recording artist in addition to a live and silent auction. Previous headliners have included Macy Gray, Jewel, and the Indigo Girls.
This year's Medical Activist award winner, Leslie Wooldridge, has over 29 years of experience as an advanced practice nurse. As Director of the Mercy Health Partners Bladder Control Center, Leslie has been a strong pelvic wellness advocate and is a trained instructor in the Foundation's evidence-based fitness and exercise program, Total Control®.
Dr. Sallie Sarrel, PT, ATC, DPT is this year's Passion Award Winner. The Passion Award is presented to a woman who has overcome pelvic pain to become a champion of pelvic wellness. Sallie is being honored for her passion for helping women with endometriosis. She was diagnosed with endometriosis after more than 15 years of nameless suffering. Sallie took her personal struggle with pain and infertility, combined it with her knowledge of pelvic floor therapy to inspire women to advocate and empower themselves. Sallie travels and publishes worldwide lecturing on the benefits of pelvic floor physical therapy and excision surgery for the treatment of endometriosis.
"WHF is excited to present these two women with their awards come May, and to introduce them to the greater Chicago health community. These two women are both a beacon of hope and inspiration for women struggling to find relief from various pelvic health issues," said Missy Lavender, Founder and Executive Director of Women's Health Foundation.
The event is expected to raise 70% of WHF's operating expenses for the upcoming year. Event and ticket information can be found at www.belowthebelt.org. For more information about WHF and women's pelvic health, visit the Foundation's website at www.womenshealthfoundation.org.
About the Women's Health Foundation
Women's Health Foundation (WHF) is a nonprofit organization dedicated to improving the pelvic health and wellness of women and girls through community-based programs and services, research, and community outreach. WHF is recognized as the nation's most visible and passionate champion of pelvic wellness issues. Learn more at www.womenshealthfoundation.org.
Contact
Karla Alegria
Women's Health Foundation
Email: kalegria@womenshealthfoundation.org
Phone-773-305-8206
or
Sallie Sarrel, PT, ATC, DPT
973-632-6791
salliesarrel@yahoo.com