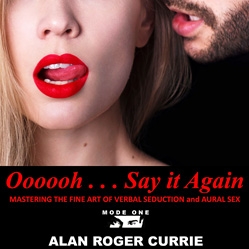 Hollywood, CA, March 18, 2015 --(
PR.com
)-- Many of the audio books that are released on Audible.com, the top website for the purchase and download of audio books in the world and a division of Amazon.com, are designed for a family-friendly, general listening audience.
Then there are other audio books that have been released on the site that are geared more toward an 'Adults Only' listening audience due to the provocative subject matter of the particular audiobook and the explicit language and profanity that is usually included.
Author and Professional Dating Coach Alan Roger Currie, a native of Gary, Indiana and an alumnus of Indiana University in Bloomington, Indiana, has released three audio books in the last eight months that have fallen in the latter category. All of Currie's audio books are based on his paperbacks and Amazon Kindle eBooks that are available on Amazon.
Currie's latest audiobook entitled, "Oooooh . . . Say it Again: Mastering the Fine Art of Verbal Seduction and Aural Sex," was released on Thursday, March 12, 2015, and less than a week later it is currently listed as the #1 best-selling audiobook in the categories of 'Erotica & Sexuality / Advice' and 'Self Development / Sexuality' among all titles that have been released since January 1, 2015. The audiobook currently is ranked #5 and #2 among all titles released overall in those two categories respectively.
"I had a supporter of mine first suggest that I convert one of my paperbacks to an audiobook format back in 2010, and honestly, I did not take the suggestion too seriously at the time," said Currie, who released his first audiobook in late July 2014 and his second audiobook in early November 2014. "In the last three or four months, I now actually earn more royalties from the sales of my audiobook editions than I do from the sales of my eBook and paperback editions. The audio book segment of the book industry has skyrocketed in popularity. A lot of men I know particularly do not like to read eBooks or paperbacks, but they will listen to an audio book on their smartphone, tablet, laptop, and/or desktop computer. I foresee the audio book format continuing to grow in popularity."
Audible invented and commercialized the first digital audio player in 1997, and has since been at the forefront of the explosively growing audiobook download segment. In 2014, listeners around the world downloaded 1.2 billion hours of audio from Audible.com outlets; Audible members downloaded an average of more than 17 books over the course of the year. More than half of current Audible members are first-time audiobook buyers.
"What makes this third audiobook of mine so interesting and appealing to a lot of my male and female listeners is that it is two-thirds 'self-help' and one-third entertaining and arousing 'audio erotica.' In Part One of the audiobook, I offer useful advice to single heterosexual men on how to become more verbally smooth and seductive with women and how to create instantaneous sexual chemistry with them, and in Part Two of the audiobook, I use the vocal talents of professional voice-over artists and female friends of mine to highlight verbal seduction examples that are based on my real-life interactions with women over the years," added Currie, who is also the Host of an Adults Only podcast program entitled, "The Erotic Conversationalist."
About Audible, Inc.
Audible, Inc., an Amazon.com, Inc. subsidiary, is the leading provider of premium digital spoken audio information and entertainment on the Internet, offering customers a new way to enhance and enrich their lives every day. Audible's mission is to establish literate listening as a core tool for anyone seeking to be more productive, better informed, or more thoughtfully entertained. Audible content includes more than 180,000 audio programs from leading audiobook publishers, broadcasters, entertainers, magazine and newspaper publishers, and business information providers. Audible is also the preeminent provider of spoken-word audio products for Apple's iTunes® Store.
For more info, visit http://about.audible.com
About Mode One Publishing, Inc.
Mode One Publishing and Mode One Multimedia, Inc., was founded by Author, Public Speaker, and Professional Dating Adviser Alan Roger Currie in 2006. The company has produced eBooks, paperbacks, audio books, podcast programs, and workshops related to helping men and women improve their love lives, sex lives, and overall social lives as well as their interpersonal communication skills with members of the opposite sex.
For more info, visit http://www.modeone.net/media/alanrogercurrie/