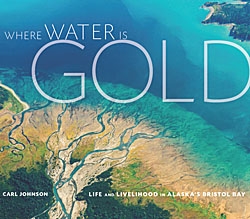 Anchorage, AK, March 25, 2015 --(
PR.com
)-- Anchorage photographer Carl Johnson began fieldwork in 2011 to produce a book about the Bristol Bay region of Alaska that would highlight the culture and economy of the region as expressed in commercial fishing, subsistence hunting and fishing, and recreation and tourism. The book, entitled "Where Water is Gold: Life and Livelihood in Alaska's Bristol Bay," is being published by Braided River and is scheduled for release in 2016. While the content of the book will primarily be photos drawn from over 24,000 images captured during Johnson's fieldwork, it will include essays that explore the riches of the region.
The Alaskan writers who will write the core essays for the book have been selected and are as follows:
Bill Sherwonit
Dave Atcheson
Anne Coray and Steve Kahn
Nick Jans
Erin McKittrick
The essays will provide an introduction to the region, explore the lifestyle and economics of commercial fishing, provide insight into the subsistence way of life, highlight the recreational and tourism values of the region, and explore the exploration of mineral claims in the region.
Bill Sherwonit has produced several books, including "Animal Stories: Encounters with Alaska's Wildlife," "Changing Paths: Travels and Meditations in Alaska's Arctic Wilderness," and "Living with Wildness: An Alaskan Odyssey." Dave Atcheson is the author of "Dead Reckoning: Navigating a Life on the Last Frontier, Courting Tragedy on Its High Seas" and "Hidden Alaska: Bristol Bay and Beyond," among other works. Anne Coray is a poet whose collections include "A Measure's Hush," "Violet Transparent" and "Bone Strings." Steve Kahn is the author of "The Hard Way Home: Alaska Stories of Adventure, Friendship, and the Hunt" and coauthor of "Lake Clark National Park and Preserve." Nick Jans is the author of "A Wolf Called Romeo," "The Grizzly Maze" and "The Last Light Breaking." Erin McKittrick is the author of "Small Feet Big Land: Adventure, Home, and Family on the Edge of Alaska" and "A Long Trek Home: 4,000 Miles by Boot, Raft and Ski."
Carl Johnson has been selected to serve as Artist-in-Residence in three national parks, received the "Environmental Issues" award in the Windland Smith Rice International Awards, and is a past recipient of a Rasmuson Foundation Artist Fellowship.