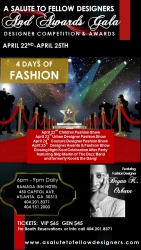 Atlanta, GA, March 30, 2015 --(
PR.com
)-- Preparations are underway for the 1st Inaugural Salute to Fellow Designer Competition and Awards, this signature event will feature some of the best African American designers from Atlanta, New York, Illinois, North Carolina and Texas to name a few and is scheduled for April 22 - 25, 2015.
The show will include individual fashion store-sponsor segments from prestigious Atlanta retailers in between the competition and Award segments. The competition segment will consisted of emerging designers that will compete for the titles of:
* Children Designer of the Year (4/22/2015)
* Urban Designer of the Year (4/23/2015)
* Couture Designer of the Year (4/24/2015)
* High Fashion Designer that has been previously nominated. (4/25/2015)
The event will be hosted at the Ramada Inn, 450 Capitol Avenue, Atlanta, GA 30312. Fashion from both retailer and designer will be shown in a fast pace, live runway show. Guest will be treated to four days of fashion through philanthropy as they view a fabulous display of elegant and high fashion in an array of categories.
Tickets can be purchased at the following link:
www.eventbrite.com/e/a-salute-to-fellow-designer-competition-and-awards-tickets-15431662518
For more details about the event, visit:
www.asalutetofellowdesigners.com