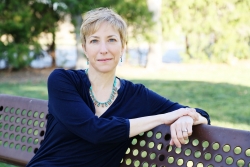 Dallas, TX, March 30, 2015 --(
PR.com
)-- Beth Haverim Shir Shalom to Host Jane Larkin, Author of "From Generation to Generation," on April 28
"Larkin…is clearly an important voice in the current discussion of intermarriage and Jewish continuity." –Publishers Weekly
Jane Larkin, a New Jersey native and author of "From Generation to Generation: A story of intermarriage and Jewish continuity," will explore the "oys" and "joys" of being a parent or grandparent of a child in an interfaith relationship on Tuesday, April 28 at 7:30PM at Beth Haverim Shir Shalom in Mahwah, NJ. The event is free and open to the community.
With almost 60 percent of Jews who married from 2000 to 2013 choosing a partner from outside the faith, more and more families are struggling to navigate the challenges of interfaith relationships. Parents and grandparents worry that their children and grandchildren won't be Jewish. They want to learn how they can nurture an interfaith couple's engagement with Judaism and grandchildren's Jewish identity.
Given her own interfaith journey, Larkin understands the concerns of Jewish parents and grandparents. She says, "Interdating and intermarriage can make even the most open-minded Reform Jewish parents and grandparents anxious. It's one thing to welcome intermarried couples into the general community, but it is another when the mixed-faith couple involves your own child or grandchild."
Beth Haverim Shir Shalom is eager to have Larkin address the congregation because intermarriage touches a large number of member families in some way. "The subject of interfaith relationships is very relevant to our members. Given Jane's journey, her interfaith family background, knowledge, reputation, and experiences, we want her to speak to our congregants," say Jane Young, chairperson of the synagogue's outreach committee.
About Jane Larkin
Born and raised in New Jersey, Jane (Friedberg) Larkin is a graduate of Verona High School and former president of the youth group at Temple Sholom of West Essex in Cedar Grove. She has a BS from the Newhouse School of Public Communications at Syracuse University and an MBA from Fordham University Graduate School of Business. She is the author of "From Generation to Generation: A Story of Intermarriage and Jewish Continuity," which Kirkus Reviews calls, "An enlightening, encouraging take on the complexities of religious intermarriage." Larkin writes for InterfaithFamily.com and contributes to "The Seesaw" in the Forward. Her work has appeared in Tablet, Kveller.com, The Jewish Journal Boston, Jewish Exponent, ReformJudaism.org, The Center for Jewish Peoplehood Education and other outlets. She is a founding member of the Jewish Women's Foundation of New Jersey and is active in National Council of Jewish Women Greater Dallas and Jewish National Fund. She sits on the board of directors of Big Tent Judaism/Jewish Outreach Institute. She lives with her family in Dallas, TX.
For more information about "From Generation to Generation," interviews, review copies, cover images and author photos, contact Jane Larkin at 214-287-0132, or visit www.interfaithandjewish.com.
About Beth Haverim Shir Shalom
Beth Haverim Shir Shalom is a 400-family welcoming Reform congregation in Northwest Bergen County serving Bergen (N.J.) and Rockland (N.Y.) counties. It is a community that loves to learn, sing, worship, and make a difference together. 280 Ramapo Valley Rd., Mahwah, NJ 07430.
For more information about "The Oys and Joys of Being a Parent or Grandparent of a Child in an Interfaith Relationship" with Jane Larkin on Tuesday, April 28 at 7:30PM, contact Ruth Turner at 845-351-5732.