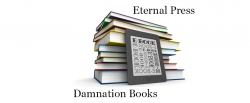 Santa Rosa, CA, March 30, 2015 --(
PR.com
)-- April 1, 2015 marks another book launch for Damnation Books and Eternal Press. The publishing companies are owned and operated out of Santa Rosa, California. William and Kim Richards Gilchrist continue to publish excellent novels by new and returning authors.
The following titles are available for review by contacting
EternalPressPromotions@gmail.com
. Submissions Guidelines can be found at EternalPress.biz and DamnationBooks.com. New distributors are being added on a regular basis making titles available and compatible with most popular e-reading devices.
From Damnation Books --
· After the Harvest by Rochelle Karina
Horror
· Devil's Dance by Steve Myers
Paranormal Thriller
· Fright House by Fred Wiehe
YA Supernatural Horror
· Here Be Dragons by Ina Jarvis
Paranormal, Urban Fantasy
· Paradise Burns by Marc E. Fitch
Horror, Thriller
From Eternal Press --
· Mutant Specimen L by David Orange
Science Fiction, Horror
· Escort by Richard C. Shaffer
Historical, LBGT, Romance Collection
· Frost Flower (Book 1 Frost Flower Series) by Linda Hays-Gibbs
Historical Regency Romance
· Blooming Rosegarten (Book 2 The Camellia Series) by Rachel Bishop
Dark Fantasy
Eternal Press and Damnation Books will release another batch of titles on 1 May 2015. For more information or review copies contact our Marketing Manager at
EternalPressPromotions@gmail.com
.
Eternal Press and Damnation Books are active on Social Media.
Follow us on Twitter @eternalpress @damnationbooks and Like Us on Facebook.
Join us on Google Plus as Damnation Books and Eternal Press (Combined) and eBay
http://www.ebay.com/usr/ep-dbbooks
.
Follow our Blogs –
Eternal Press at
http://www.eternalpress.biz/blog/
Damnation Books at
http://www.damnationbooks.com/blog/