Hungry Uncle Foods Debuts Line of Premium Condiments and Barbeque Sauces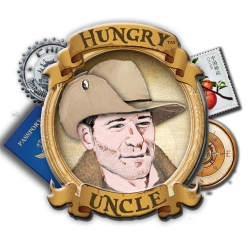 Bernardsville, NJ, April 01, 2015 --(
PR.com
)-- Hungry Uncle Foods, LLC, a purveyor of premium condiments and barbeque sauces, launched its product line this week with the debut of its Bajan Barbeque Sauce. Available on the company's website, Bajan sauce offers a unique Caribbean flavor and aroma profile that distinguish it within the barbeque sauce market.
Based in New Jersey, Hungry Uncle Foods creates and distributes condiments and sauces inspired by its founder's global travels.
"Our recipes capture many of the exotic food flavors that I have enjoyed and cooked with from throughout the world," says Hungry Uncle founder Mitchell Danzis. "For our initial product rollout of Bajan Barbeque Sauce, we were inspired by the sweet, tangy and aromatic seasoning influences prevalent in recipes popular in Barbados and other Caribbean islands. Looking ahead, some of our future products will feature flavors and ingredient profiles reminiscent of Asian foods and spices."
The Hungry Uncle brand profile promotes food and taste exploration, evokes international flavorings and encourages users to experiment with its products in their own cooking.
"Each of our products features exotic global ingredients, as well as ones commonly found in local grocery stores. Hungry Uncle sauces and condiments combine these ingredients in novel, fun approaches and we hope our customers share that sense of exploration and experimentation in their own cooking," says Danzis. "The Hungry Uncle character is a lighthearted way of bringing a new twist to the culinary and beverage landscape."
Hungry Uncle also shares global culinary explorations, restaurant reviews and chef interviews through blog postings on its website and several social media channels.
Created to accentuate the flavor of meat, poultry, seafood and fish, a 12 ounce bottle of Bajan Barbeque Sauce is available online for $7.99 (plus a shipping and handling fee) at the Hungry Uncle website:
www.hungryuncle.com
.
Hungry Uncle Foods, LLC
Based in Bernardsville, N.J., Hungry Uncle Foods creates and distributes premium condiments and sauces featuring exotic ingredients sourced from throughout the world. The company encourages food and taste exploration not only in its own products, but also for customers utilizing its sauces and condiments in their cooking.
Contact
Hungry Uncle Foods, LLC
Mitchell Danzis
201-207-3493
http://www.HungryUncle.com

Contact