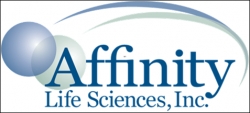 Amherst, NH, April 01, 2015 --(
PR.com
)-- Affinity Life Sciences, Inc. is pleased to announce its 10 year anniversary in March 2015. Affinity was founded on the principle of providing scientific expertise with the highest level of quality and service to the medical device, pharmaceutical, and life sciences community; hence our trademark "Where Science and Quality Come Together."
Tod Gavron, President of Affinity was excited to mark the 10 year anniversary, "Affinity started with a small office and laboratory 10 years ago and has grown into a 16,250 sq. ft. facility providing cGMP and ISO13485 compliant services like lyophilization, reagent production and bioanalytical testing." Gavron continued, "Over our 10 year period we have worked with numerous clients, from small biotech startups to some of the largest pharmaceutical and diagnostics organizations in the world. Our growth has been built upon our dedicated employees, our outstanding suppliers, and our one-on-one service with our clients. We look forward to continued growth into the next decade and beyond."
Affinity Life Sciences has grown significantly over the past few years to be able to provide comprehensive service solutions across multiple industries, including:
·
Lyophilization Services
·
Biomarker Assay Development
·
Biomarker Assay Production
·
Cell Culture Services
·
Protein Chemistry Services
·
Bioanalytical Testing Services
About Affinity Life Sciences:
Affinity Life Sciences, located in Amherst, NH is a cGMP and ISO 13485 compliant company dedicated to the specific needs of the biotechnology and pharmaceutical markets. Affinity's new 16,250 sq ft facility can provide custom services including in vitro diagnostic kit development and production, lyophilization, cell culture production, and bioanalytical testing. Learn more about Affinity Life Sciences at
www.AffinityLifeSciences.com
or contact Sales at (603) 718-1790 ext.102 or
info@afflif.com
to learn more about Affinity's custom services.