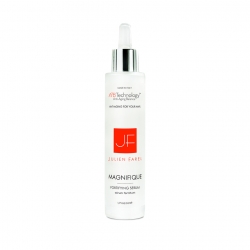 New York, NY, April 08, 2015 --(
PR.com
)-- On the forefront of Anti-Aging Haircare, Julien Farel is launching a revolutionary product, the world's first hair serum to delay the graying process: Julien Farel Magnifique Fortifying Hair Serum.
"I have had thousands of men and women in my salon chair and out of all of their hair concerns, one remains consistent… the change in texture and density of hair as we all age. The aging of hair happens quickly especially once you start to color or chemically treat your hair. That is why I developed a product that fights gray, improves thickness, and enhances volume - Magnifique." - Founder and Chairman, Julien Farel.
Powered by their scientifically developed Hexapeptide, Magnifique stimulates the pigmentation process, boosting natural melanin levels to slow the graying of hair and improve hair's youthful texture and appearance. Echinacea + Edelweiss Stem Cell Extracts energize and sustain healthy hair renewal. Hyaluronic Acid, also seen throughout Julien Farel Anti-Aging Haircare, hydrates the deep layers of scalp and hair. A2B (Anti-Aging Balance) Technology and this precise blend of quality ingredients protect hair against the damaging effects of heat styling and environmental elements that make hair dry, weak and brittle. This potent concentrate enhances your hair's volume, youth and shine, erasing the damage that you do to your hair everyday.
Magnifique is ideal for hair thinning or hair weakened by stress, over-processing, environmental damage and the inevitable aging process. Apply once a week to clean, towel-dried hair. Squeeze dropper (by design, it fills with the proper dosage) and glide it along the scalp, section by section. Massage gently with fingertips. Do not rinse. Style as usual. Magnifique absorbs quickly into the scalp without leaving residue or weighing down hair. Can be used the day after color and chemical treatments.
Use 2-3 times a week for 3 months when experiencing hair thinning or hair loss during seasonal change.
Magnifique is $95.00 and available at
www.julienfarel.com
and Bergdorf Goodman.
Are you #TooYoungToGray?
Enter to win
Magnifique on Facebook! 10 winners will receive the full size product and one grand prize winner will receive a once in a lifetime $1000 haircut with Julien Farel, himself.
Watch this video
to see real women talk about the change in their hair.
About the Julien Farel Group
Julien Farel is one of the most celebrated names in the luxury haircare arena. He is the Chairman of the New York City born, French-American Julien Farel Group, which is driving innovation in the beauty industry not only through its transformative Anti-Aging products, but also through its unique services. With salons and spas in New York and Cabo San Lucas, Julien Farel Group also includes JF Gymnastique, a private studio offering a holistic fitness and wellness experience. Farel is the Founder of Julien Farel Anti-Aging Haircare, the groundbreaking product line launched in 2011 that gave rise to the Anti-Aging haircare revolution. His impressive roster of clients includes beauty editors, CEOs, and A-list celebrities such as Lauren Bush Lauren, Ivanka Trump, Salma Hayek, Gwyneth Paltrow, and Richard Gere. Farel has also been the Official Hairstylist of the US Open Tennis Tournament since 2007, giving world-class tennis players, like long-time client Rafael Nadal, an aesthetic – and psychological – edge. The Julien Farel Restore Salon & Spa flagship at the Loews Regency is setting a new bar in the approach to Anti-Aging and revolutionizing the entire beauty industry.