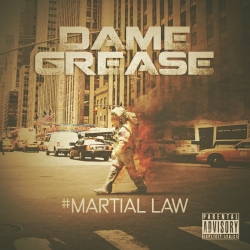 Harlem, NY, April 09, 2015 --(
PR.com
)-- The time has come to bring listeners over 5 years of art, creation and life from a man with over 20 years of dedicated contributions to the Hip Hop Music world. Martial Law Album + Reality by Multi Platinum Producer and Writer Dame Grease (Damon Blackman), has an eclectic mix of rhyme and reason, written and produced by Dame Grease + guest production by Snaz Oz DaWizard of Toronto.
Dame Grease is most recognized for his behind the scenes work with DMX, The LOX, Cam'Ron, Currensy, French Montana, Max B and Nas. He is also one of the main participants responsible for devising the highly coveted syncopated template that currently defines mainstream Hip Hop.
Special Musical guests on the upcoming Martial Law Album slated to release May 5th, include Eric Lattimore, Bigga Threat, Jovonnie Jetta B Jackson, Chi Ill, Niamson, Pandora Lux, Mary J Blige, Jay Z, Bob Marley + The Dame Grease Orchestra.
Preview the album on Soundcloud page DameGrease or www.DameGrease.com. Pre-Order the Limited Edition Martial Law CD and Vinyl copies on www.damegrease.com
Also check out Dame on YouTube Channel GoonBossTVXL or DameGreaseVevo
Listeners should follow @DameGrease on Twitter + @DameGrease129 on Instagram
Interview Dame Grease on Martial Law Album and his upcoming projects. Contact thedamegrease@gmail.com to set up.
To host a Martial Law Album Session contact Dame at www.DameGrease.com