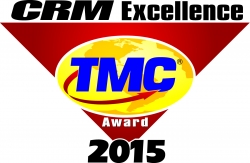 Paris, France, May 04, 2015 --(
PR.com
)-- Vocalcom announced today that TMC, a global, integrated media company, has named
Vocalcom Contact Center Software Solution
as a recipient of a 2015 CRM Excellence Award, presented by CUSTOMER magazine.
Vocalcom continues to attract new customers with exciting technological developments, beginning the last financial year by announcing the integration of its
contact center solutions with Salesforce1
. Working seamlessly with the Salesforce1 Mobile App, all solutions now enable inside sales, field sales and service agents to connect with customers and prospects from anywhere, transforming the experience for both the customer and agent.
Over the year, Vocalcom was recognised by some of the most prestigious awards in the industry. The company was honoured twice in the last annual
Stevie Awards
for Sales & Customer Service, for the market impact of its true cloud, omni-channel contact center solutions.
"Vocalcom is thrilled to receive CRM magazine's CRM Excellence award," said Anthony Dinis, CEO at Vocalcom. "These honours validate our commitment to delivering a best-in-class, omni-channel cloud customer contact technology that truly helps customers significantly improve their business results."
Vocalcom's cloud contact center platform, revolutionizes the way organizations communicate, collaborate and engage with their customers, enabling them to deliver a personalized and unique customer service experience and drive a more effective sales and marketing team.
"The 16th Annual CRM Excellence Award honors Vocalcom for being a true CRM partner to its customers and clients," said Rich Tehrani, TMC's CEO and Group Editor-in-Chief. "Vocalcom has demonstrated to the editors of CUSTOMER magazine that Vocalcom
Cloud Contact Center Software
improved the processes of their clients' businesses by streamlining and facilitating the flow of information," added Tehrani.
Based on hard data, the CRM Excellence Awards rely on facts and statistics demonstrating the improvements that the winner's product has made in a client's business. Winners were chosen on the basis of their product or service's ability to help extend and expand the customer relationship to become all encompassing, covering the entire enterprise and the entire lifetime of the customer.
The 2015 CRM Excellence Award winners are highlighted in the May 2015 issue of CUSTOMER magazine.
About VOCALCOM
Vocalcom was founded on the principle of a wonderful user experience, providing a contact center software based on an innovative design and useful functionality. More than 3,500 companies such as McDonald's, Disney, and ITV are using Vocalcom to lower their operational costs, raise productivity, and turn each customer interaction into a positive business outcome. Loved by 550,000+ users for its beautifully crafted interface, Vocalcom is a contact center software, easy to try, buy, implement, and use. For more information about Vocalcom contact center software, visit
Vocalcom.com
About CUSTOMER
Since 1982, CUSTOMER magazine (formerly Customer Interaction Solutions) has been the voice of the call/contact center, CRM and teleservices industries. CUSTOMER has helped the industry germinate, grow, mature and prosper, and has served as the leading publication in helping these industries that have had such a positive impact on the world economy to continue to thrive. Through a combination of outstanding and cutting-edge original editorial, industry voices, in-depth lab reviews and the recognition of the innovative leaders in management and technology through our highly valued awards, CUSTOMER strives to continue to be the publication that holds the quality bar high for the industry. Please visit http://www.customer.tmcnet.com.