LightPointe Launches New 60 GHz Radios with Highest Transmission Power Capability at 55dBm, for Enterprises, WISPs, and 4G LTE Small Cell Networks
AireLink Series 60 GHz radios provide value and performance, and choice of three antennas.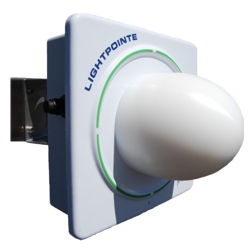 San Diego, CA, April 15, 2015 --(
PR.com
)-- LightPointe, the leading manufacturer of point to point wireless bridges, announced the introduction of next generation unlicensed 60 GHz radios, which provide longer distances than competing radios. The AireLink 60 Series operates in the 59 to 63 GHz frequency range and are fully compliant with North American FCC and European ETSI regulatory requirements. The AireLink Series, which was engineered and is manufactured in LightPointe's San Diego Design Center, initially includes the compact AireLink 60 SX, medium range AireLink 60 MX, and longer range AireLink 60 LX. The radios come with a flexible selection of high gain antennas measuring 4.72 inches, 12 inches, and 24 inches respectively. The longer distance AireLink LX system, with the high gain 47 dBi antenna, is designed to reach the +55 dBm EIRP power level, the maximum power level allowed in several European countries such as Germany, Austria, Switzerland, and England.
"The AireLink Series represents two years of R&D at LightPointe and one of the company's most intense development projects," said Dr. Heinz Willebrand, CEO of LightPointe. "We started with a blank slate and reached out to our customers, asking them what they need in an affordable, license-free wireless bridge solution. Although deployment of 60 GHz V-Band radios has taken off in recent years, we found that customers yearned for lower cost, longer distance capability, and more versatile antenna options enabling both an aesthetically pleasing small footprint design and high transmit power. This led to a decision to design a new platform from the ground up, yet utilize what we have learned from our successful AireBeam and Aire X-Stream Series whose reliability has been proven for many years. The result is our new AireLink Series, which includes the highest performance 60 GHz wireless bridge solutions on the market, with EIRP/power up to +55 dBm and a choice of antennas with up to 47 dBi gain—the best in the industry. These radios also provide the broadest selection of modulation schemes, low latency, and total aggregated link capacity of up to 2000 Mbps. But just as important, we put tremendous effort into keeping prices very competitive and ensuring the highest ROI for our customer base. All three 60 GHz models share a common chassis, which provides economies of scale and efficiencies."
LightPointe is the only manufacturer which provides customers with a choice of all three leading point-to-point wireless bridge technologies: Millimeter wave, Free Space Optics, and Hybrid RF-Laser bridges, which the company invented and holds patents on. Demand for wireless bridges has skyrocketed due to businesses, schools, and government agencies wanting to own their networks and connect buildings without monthly fees—and due to the exponential growth in broadband usage from smartphones, tablets, and other mobile devices.
"The AireLink Series opens up new opportunities for our distributors and resellers, especially in countries where it is prohibitory expensive—due to regulatory agency fees—to widely deploy other backhaul solutions such as 70/80 GHz E-Band radios," continued Dr. Heinz Willebrand. "In many countries, such as Germany, Austria, and Switzerland, our high gain and license free AireLink 60 Series radios are a much more robust and reliable option than other millimeter wave solutions, saving thousands in initial and recurring annual costs. Until now, no other 60 GHz radio could provide the range and performance needed for many of these applications and geographic markets. The AireLink Series sets the new benchmark for 60 GHz value and features."
Contact
LightPointe Communications, Inc.
Todd Easterling
+1-858-834-4083
www.lightpointe.com

Contact