Cuba and the United States Shake Hands in Yalil Guerra's New Album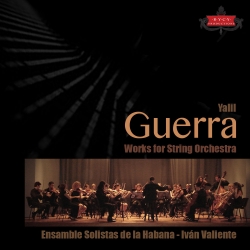 Burbank, CA, April 14, 2015 --(
PR.com
)-- With his Complete Works for String Orchestra, the young composer Yalil Guerra launches his fifth album into the classical music market. On this occasion, he presents the Ensamble Solistas de la Habana and its founder/director, Ivan Valiente.
Cuba has always been a source of inspiration for Guerra, who has been based in the United States since 2000. "Despite the years spent abroad, I remain close to my native land, its people, their music and their culture," said the 2012 Latin Grammy winner, who has also been a multi-year nominee for the same award.
Ensamble Solistas de la Habana is currently the finest string orchestra of the island, with musicians of high quality, professionalism and experience. The group has a varied and extensive repertoire, the result of the continuing hard work of its director and founder, Ivan Valiente, who was the first to play Guerra's music in Cuba. According to Valiente, "Yalil Guerra's music is here to stay, and it will certainly occupy an important place in music history."
From his recording studio in Burbank, California, Guerra offered the following: "The processes and changes that are happening between Cuba and the United States are welcomed by many, including myself. I think it's time that this conflict be closed and that both nations extend a hand and let old wounds heal. This can only lead to a better future, and we must risk everything for it. This current album is my tribute to this historic process; my music is my flag."
All the works on the new album were recorded live in Havana, Cuba, most of them as global or Latin American premieres. Tracks include: El Retrato de la Paloma (The Portrait of the Dove), A la Antigua, Terra Ignota and Old Havana. All the works are masterfully executed in their individual styles, and the album as a whole leaves an unforgettable footprint on the musical and cultural landscape.
For more information about the composer:
www.yalilguerra.com
Facebook.com/yalilguerrafanpage
Twitter: @yalilguerra
Video: https://www.youtube.com/watch?v=HOIMDhypM3Y
Contact
RYCY Productions Inc.
Eugene Guerra
818-934-9990
www.rycy.com

Contact