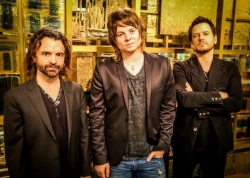 Los Angeles, CA, April 15, 2015 --(
PR.com
)-- Lotus Crush, the band of rock n' roll veterans best known from The Voice, Driveblind, Candlebox and Jimmy's Chicken Shack, released their sophomore album Rabbit Hole (Skyrocket Ent/ CaviGold Records) today. Lotus Crush is Scottish singer Terry McDermott, runner-up of The Voice 2012 and Driveblind; guitarist Peter Klett and drummer Scott Mercado of Candlebox; guitarist Island Styles of Jimmy's Chicken Shack; and bassist Mark Mattrey. Recorded at Seattle's iconic Robert Lang Studios, the studio utilized for classics from Foo Fighters, Nirvana, Alice In Chains, and more, Rabbit Hole - available for orders now at iTunes (
http://apple.co/1NR8H5V
) - is an 11-song tour-de-force from the band.
Media have been supportive of Lotus Crush and Rabbit Hole with Yahoo! Music lauding McDermott's "perfect set of pipes," and ARTISTdirect raving "…(McDermott is) still rocking our world with his pitch perfect and rich voice…" Starpulse said "…even though Terry and his fellow bandmates have been turning out good music for a long time, well before any sort of TV attention, Rabbit Hole may be their best work yet." Influential site Buzzbands LA stated, "The propulsive song 'Hearts and Minds' has urgency…" And, AXS said about the track: "Their combination of driving rock plus compelling lyrics about subjects like the one that spawned 'Hearts and Minds' is what makes them a rock band on the rise, again."
Last Tuesday, Yahoo! Music began a week-long exclusive stream of Lotus Crush's Rabbit Hole. To listen to and read about Rabbit Hole at Yahoo! Music, click here:
http://yhoo.it/1FidGaY
. Earlier in the year, in January, Entertainment Weekly (click here:
http://bit.ly/1HMgdNq
) exclusively unveiled the exciting first video from the album, for "Hearts and Minds," which stars C Thomas Howell (The Outsiders, Red Dawn, Southland). In December 2014, Yahoo! Music also debuted the audio of "Hearts and Minds" (click here:
http://yhoo.it/1CaHDZQ
).
Lotus Crush's history began on the road in 2006 when Driveblind toured Europe with Candlebox (Styles and Mattrey are recent additions to the band). While on tour, the artists shared a love of seminal British bands such as The Verve, Pink Floyd and Led Zeppelin and sowed what would be the seeds of a long-lasting relationship. These common influences spurred their creative processes, and they went on to release their first project together, Half Light Morning in 2011. After getting back together for what they thought was a single reunion show in 2014, the creative gears clicked, the hiatus ended and Lotus Crush was back.