Camp Arcadia Notes Earth Day: "Make the World a Better Place Because You Have Been in It"
Camp Arcadia, a fourth-generation, family-operated summer camp for girls in Casco, Maine, noted Earth Day 2015 in the context of their Centennial Season with a look back at how a growing awareness of the environment has shaped the Camp Arcadia experience.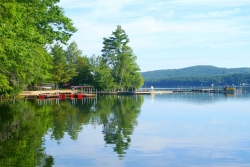 Casco, ME, April 22, 2015 --(
PR.com
)-- Camp Arcadia on Earth Day: "Make the world a better place because you have been in it."
Anne Fritts Henderson Recalls the Early Stages of Environmental Awareness and How it has Shaped the Camp Experience Today
Camp Arcadia,
www.camparcadia.com
, a fourth-generation, family-operated overnight summer camp for girls in Casco, Maine, noted Earth Day 2015 in the context of their Centennial Season with a look back at how a growing awareness of the environment has shaped the Camp Arcadia experience.
Anne Fritts Henderson recalls the early stages of environmental awareness:
"With the publication in 1962 of Rachel Carson's 'Silent Springs', an environmental awareness movement swept the United States. Camps all over took a harder look at how they could aid in the preservation of the natural world.
"When I was a camper at Arcadia, we had Sunday afternoon Arcadia Beach Club when everyone would go to the lake and wash their hair and themselves in the lake. New knowledge in the second part of the twentieth century led us to stop this practice, to protect our lake. Likewise we learned that oil and gas from motor boats polluted our lake and we sadly stopped waterskiing. In the 1970's to 2000 we trained our campers in how to preserve our environment on our canoe and hiking trips. No trace left behind became our motto.
"Joining me in 2000, my daughter, Louise Fritts Johnson, became a fourth generation director of Arcadia. We have continued to adapt and change at Camp and teach campers about conservation. We have extended our trip program to new wilderness areas in Maine and New Hampshire. We started composting with just a few campers and now every camper at Arcadia composts while she is there. We have started our own small garden in which we use the compost. We use some of the harvest from the garden in our new program 'Dirt to Dessert,' where the children cook outside. We no longer use paper plates or plastic cups when we eat outside, and we recycle from every cabin."
"We teach girls and young women how to thrive by making independent choices, living in harmony with the world around them and gaining basic life-long skills," Camp Director Louise Fritts Johnson said. "We have a saying: 'make the world a better place because you have been in it.' We believe that being aware of the importance of preservation and conservation is an important aspect of their education and experience at camp. These important lessons of respect and reverence for our natural world stay with our campers for life."
A variety of activities are planned in the centennial spirit to celebrate with campers, counselors, parents, alumnae and the local community in 2015. The official launch included gatherings in 17 cities across the globe, from Darien to Dublin, New York to Shanghai. Camp Arcadia will be also be publishing a book on its history and the history of camping, a cookbook, and an historical songbook.
On the Centennial Season
"Reaching our 100th season as a family-run camp is significant, inspiring me to look forward and, inevitably, back," said Louise Fritts Johnson. "We have had the opportunity to grow with generations of wonderful girls and young women, many of whom attributed significant parts of their lives' successes to their experiences at Arcadia. This inspires us to keep Arcadia's century long traditions alive and thriving. As we live and work in this busy, busy world, we are convinced more than ever that an experience at Arcadia gives a young girl the balance needed to take her place as a leader – and the ability to choose her place in the world, based on the confidence grown in large part from their Arcadia experience."
"We believe each camper should, with guidance, carry out her own individual program," said Anne Henderson Fritts. "In all our activities, which range from cooking to camping skills, to horseback riding and to tennis, our counselors' encouragement, response, feedback, support, warmth, humor and enthusiasm enable our campers to find their own way, to develop expertise and to investigate new areas of interest in a supportive and nurturing environment."
Louise Fritts Johnson said, "First hand learning by experience - working together at the ropes course, taking nature paddles, sleeping under the stars - cannot be taught in a classroom. Camp is where a girl learns to be dependent on herself and on nature. At Arcadia a girl is involved. She grows in understanding herself and the world around her, and learns to live happily with others. Friendships are forged that last a life-time."
And let's not forget Family Camp.
Family Camp at Arcadia has been a tradition for 40 years. At Family Camp, there is something for each member of the family. All are welcome to participate in activities, which include a sailing regatta, distant swims, day hikes, yoga, camp fires, horseback riding, swimming, kayaking, paddle boarding, among others. Participants are also welcome to read a long overlooked book while relaxing on our beach at Pleasant Lake or strolling the trails. Meals are healthy and plentiful, with family style dining, made to order breakfast buffet, picnics at the beach and a Gala Dinner of Maine lobster. Arcadia's Family Camp brings friends and families together for laughter, fun and experiences in the out of doors.
A bit about the history of Camp Arcadia.
The same family has guided Arcadia from the beginning. Dr. George L. Meylan had been the director of Physical Education at Columbia University and founder of White Mountain Camp for boys on Sebago Lake in Maine in 1905.
Dr. Meylan and his daughter, Juliette Meylan Henderson, directed Arcadia for many years. He became the first president of what became the American Camping Association. Juliette oversaw growing the Camp in many ways, increasing its acreage, establishing a strong and diverse overall program as well as handling staffing and enrollment.
Juliette's daughters, Anne Henderson Fritts and Louise Henderson, became directors in the 1970's, and oversaw growth in the number of campers and counselors. Anne worked on the establishment of Family Camp, the Camp Arcadia Scholarship Foundation and other program aspects of the Camp. In 2006 Anne's third daughter, Louise Fritts Johnson, joined Anne and Louise as a director of Arcadia.
About Camp Arcadia: Celebrating its 100th season in 2015, Camp Arcadia, a summer camp for girls, is beautifully sited on 365 acres encompassing woods, the lake and fields in Casco, Maine. Approximately 170 campers ages 8 to 18 and 65 counselors over several sessions come to Camp Arcadia each summer, from 23 states and 12 countries since the mid-twentieth century. For more information:
www.camparcadia.com
Contact
Camp Arcadia, Summer Camp for Girls
Mollie Fullington
917-346-6123
www.camparcadia.com
Louise.johnson@camparcadia.com

Contact